Travel that meets your needs, comfortably.
We strive to make traveling Pennsylvania safe and simple. There are 17 service plazas located along the PA Turnpike to meet travelers' needs. These easy-on, easy-off plazas are open 24 hours a day and offer fuel, restrooms, a variety of food options, and other amenities to make travel comfortable and efficient.
Dining vendors maintain their own service hours. Click here to view hours.
Some locations may have limited or flexible opening hours at this time.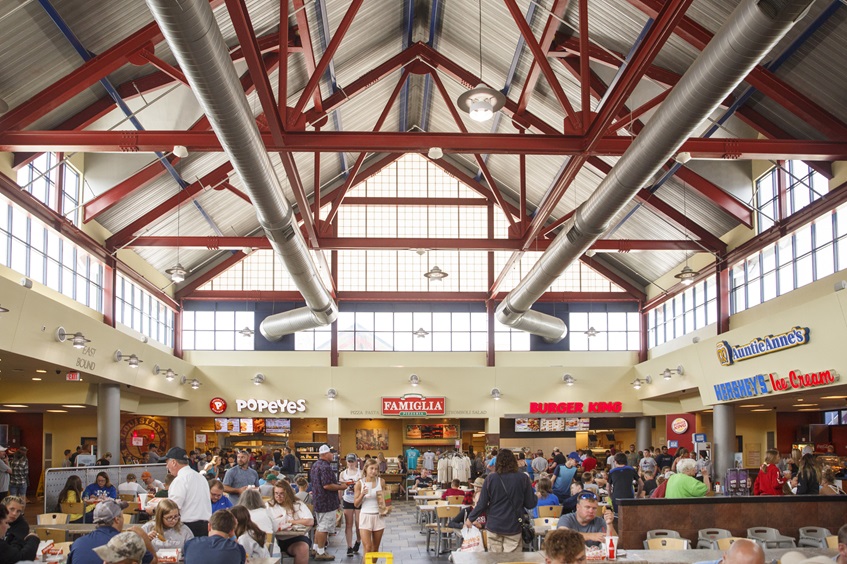 Notable Amenities
The PA Turnpike offers specialized amenities at select service plazas to accommodate travelers, including E-85 fuel, Electric Vehicle Charging, Compressed Natural Gas, and RV Sanitary Stations.
Art Sparks
The Art Sparks program brings unexpected excitement to travels on the PA Turnpike, while putting young artists on the road to success.
Notable Amenities
Electric Vehicle Charging Stations
Electric-vehicle charging stations are installed and ready for customers to use at five turnpike service plazas: Oakmont Plum, New Stanton, Bowmansville, Peter J. Camiel, and King of Prussia Service Plaza now have Blink Level II EV and Level III charging stations. The charging stations are located near the rear of the plaza parking lots — generally behind the service-plaza buildings. A fee is charged. Customers will pay at the charging station with a credit card. See the Blink Network website for current charges: https://www.blinkcharging.com/.
In addition, Tesla Electric Superchargers are available at North and South Somerset, Bowmansville, Hickory Run, and Peter J. Camiel Plazas.
E-85 fuel
E-85 fuel is available at the Sideling Hill, North Somerset, and Oakmont Plum Service Plazas.
Compressed Natural Gas (CNG)
Compressed Natural Gas (CNG) is a readily available alternative to gasoline that's made by compressing natural gas to less than 1% of its volume at standard atmospheric pressure. Consisting mostly of methane, CNG is odorless, colorless and tasteless. It's drawn from domestically drilled natural gas wells or in conjunction with crude oil production.
CNG is available at the New Stanton.
RV Sanitary Stations
RV Sanitary Stations are available at the Sideling Hill, Allentown, Lawn and Valley Forge service plazas. A fee is charged for use of these stations.