Special Hauling Permits
A permit is required if the vehicle's dimensions exceed any of the following: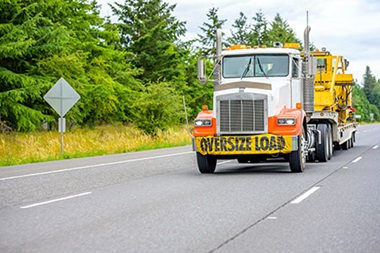 Length: 85 feet
Weight: 100,000 lbs. (Any vehicle or load weighing over 100,000 pounds that is divisible will be denied.)*
Axle weight: 22,400 lbs. (27,000 lbs. maximum)
Height: 13'6" (Exceptions: Maximum height on the PA Turnpike 576, 43, I-376 and 66 is 14'.)
Width: Over 10'0" to a max of 11'6". Width includes mirrors and all extending cargo. (Exceptions: Maximum width between (115) Wyoming Valley Ramp and (131) Clarks Summit Ramp (Northeast Extension) is 14'. The maximum width on the PA Turnpike 576, 43, I-376 and 66 is 14'.)**
Bumper overhang: A load or part thereof extending 5' front or 15' rear
**Note: Vehicles between 8'6" wide and 10' wide do not require a permit, but must follow time of day travel restrictions.
Divisible and Non-divisible Loads
The PTC will only issue overweight/over-dimensional permits for nondivisible vehicles and loads with a maximum gross vehicle weight of more than 100,000 lbs. Accordingly, customers are advised that a vehicle and load that weighs in excess of 100,000 lbs., and which does not meet the federal definition of nondivisible, cannot legally enter the PA Turnpike.
Definition of Nondivisible Load or Vehicle
Any load or vehicle exceeding applicable length or weight limits which, if separated into smaller loads or vehicles, would:
Compromise the intended use of the vehicle, (i.e., make it unable to perform the function for which it was intended);
Destroy the value of the load or vehicle, (i.e., make it unusable for its intended purpose); or
Require more than eight work hours to dismantle using appropriate equipment. The applicant for a nondivisible load permit has the burden of proof as to the number of work hours required to dismantle the load.