Travel Advisories
Bridge Construction Planned Feb. 6-10 on U.S. 422 West, N. Gulph Rd. in Tredyffrin, Upper Merion Townships
February 3, 2023 – The Pennsylvania Turnpike Commission announced today that overhead bridge work is planned on westbound U.S. 422 and N. Gulph Road in Tredyffrin Township, Chester County and Upper Merion Township, Montgomery County, under the Commission's project to widen and improve the Turnpike and its bridges between milepost 324 and milepost 326.
Motorists are advised of the following travel restrictions:
In addition, westbound U.S. 422 traffic may be slowed periodically during the nighttime operation for equipment movements at the Turnpike bridge work area.
Motorists should use caution and be prepared for slow or stopped traffic approaching these areas. The schedule is weather dependent.
---
PA Turnpike Reminds Motorists of 5% Toll Increase
More drivers with unpaid tolls now risk having vehicle registrations suspended under new law
January 25, 2023 – The Pennsylvania Turnpike Commission (PA Turnpike) reminds drivers that a toll increase approved last year has taken effect across the highway system on Jan. 8 at 12:01 a.m. The Commission approved a 5% increase for E-ZPass and Toll By Plate customers on Aug. 2, 2022. E-ZPass drivers will continue to get the lowest rates, saving nearly 60% versus Toll By Plate. To check toll rates for travel on the PA Turnpike, visit www.paturnpike.com/toll-calculator.
The PA Turnpike also reminds drivers that Act 112 — a measure signed into law on Nov. 3, 2022 — is now in effect. It enables the PA Turnpike to work with the PA Department of Transportation (PennDOT) to suspend motor-vehicle registrations of owners with four or more overdue Toll By Plate invoices or $250 or more in unpaid tolls or outstanding toll invoices. Before Act 112, registration suspensions required a higher threshold of six past-due toll invoices or $500 or more in unpaid tolls.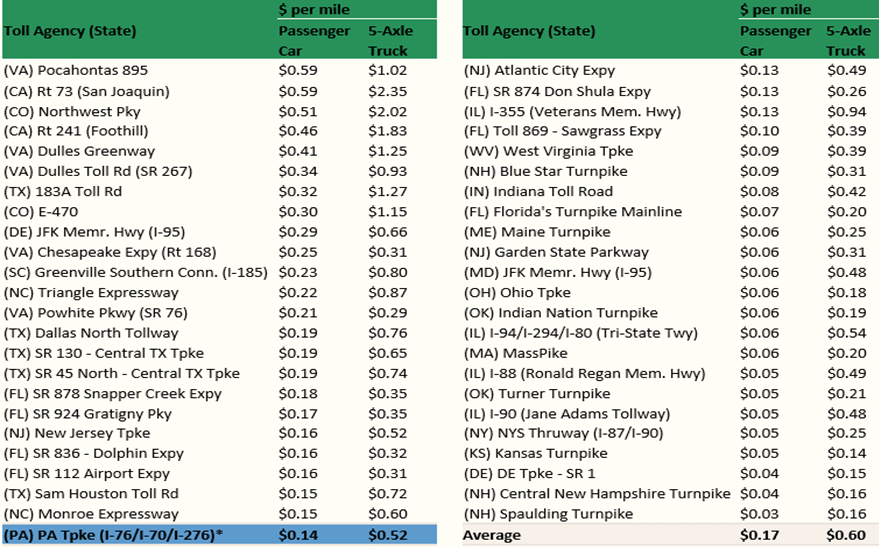 ---
Thomas Road Closed at PA Turnpike Overpass
January 20, 2023 – Thomas Road is closed between Walker Road and Gulph Road until late winter 2023 for demolition of the existing Pennsylvania Turnpike overpass in Tredyffrin Township, Chester County. Traffic is detoured to Walker Road, Glenhardie Road, and Gulph Road.

Following the full closure, Thomas Road will be restricted to one lane for construction of the new overpass.
---
Project Overview
Read the December Construction Update Sign up to receive project news
This project will widen and reconstruct two miles of the Pennsylvania Turnpike from the Valley Forge Service Plaza (Milepost 324) to the Valley Forge Interchange (Milepost 326) in Tredyffrin Township, Chester County.
The existing four-lane roadway with a 10-foot median and 12-foot-wide shoulders will be converted into a six-lane facility with three 12-foot travel lanes in each direction, a 26-foot median, and 12-foot-wide outside shoulders.
The project also includes replacement of mainline bridges carrying the Turnpike over U.S. 422/N. Gulph Road, Glenhardie Road, and Thomas Road, plus lengthening of culverts, construction of sound barriers at certain locations, and construction of stormwater management facilities and other drainage improvements across the project.
The original project was six miles in length from the Route 29 Interchange (Milepost 320) to the Valley Forge Interchange (Milepost 326). Due to litigation and the current financial challenges facing the Commission, it was broken into two separate construction contracts: This project, plus a second contract for the western two thirds of the corridor from the Route 29 Interchange (Milepost 320) to the Valley Forge Service Plaza (Milepost 324). For more information on that project, go to www.patpconstruction.com/milepost-320-324/design-construction-details