Project Summary: This project includes reconstruction of the existing Sideling Hill Service Plaza, with extensive improvements to the parking lot, and the installation of a new trailhead.
Construction Start: May 2023
Construction Completion: May 2025
Project Total: $28.1 million
General Contractor: New Enterprise Stone & Lime, Co., Inc.
Construction Manager: Hill International, Inc.
Design Consultant: P. Joseph Lehman, Inc., Consulting Engineers
The Pennsylvania Turnpike Commission is investing in improvements to the Sideling Hill Service Plaza (MP 172.4) under a $28 million project that will:
Expand parking for trucks, busses, and personal vehicles
Improve signage, lighting, and stormwater drainage
Relocate and upgrade its Farmer's Market Pavilion
Upgrade curbs and sidewalks
Construct a new Trailhead connection to more than 600 miles of trails within a 25-mile radius of the Plaza
The Sideling Hill Service Plaza, which is accessible to both eastbound and westbound Turnpike motorists, will remain open around-the-clock during construction that is underway from May 2023 until May 2025.
Sidling Hill Service Plaza is one of the Turnpike's 17, 24-hour service plazas located along the more than 550 miles of the PA Turnpike at convenient intervals, including the Traveler Information Welcome Center located at the King of Prussia Service Plaza in eastern Pennsylvania.
---
Truck Parking Expansion Existing Plan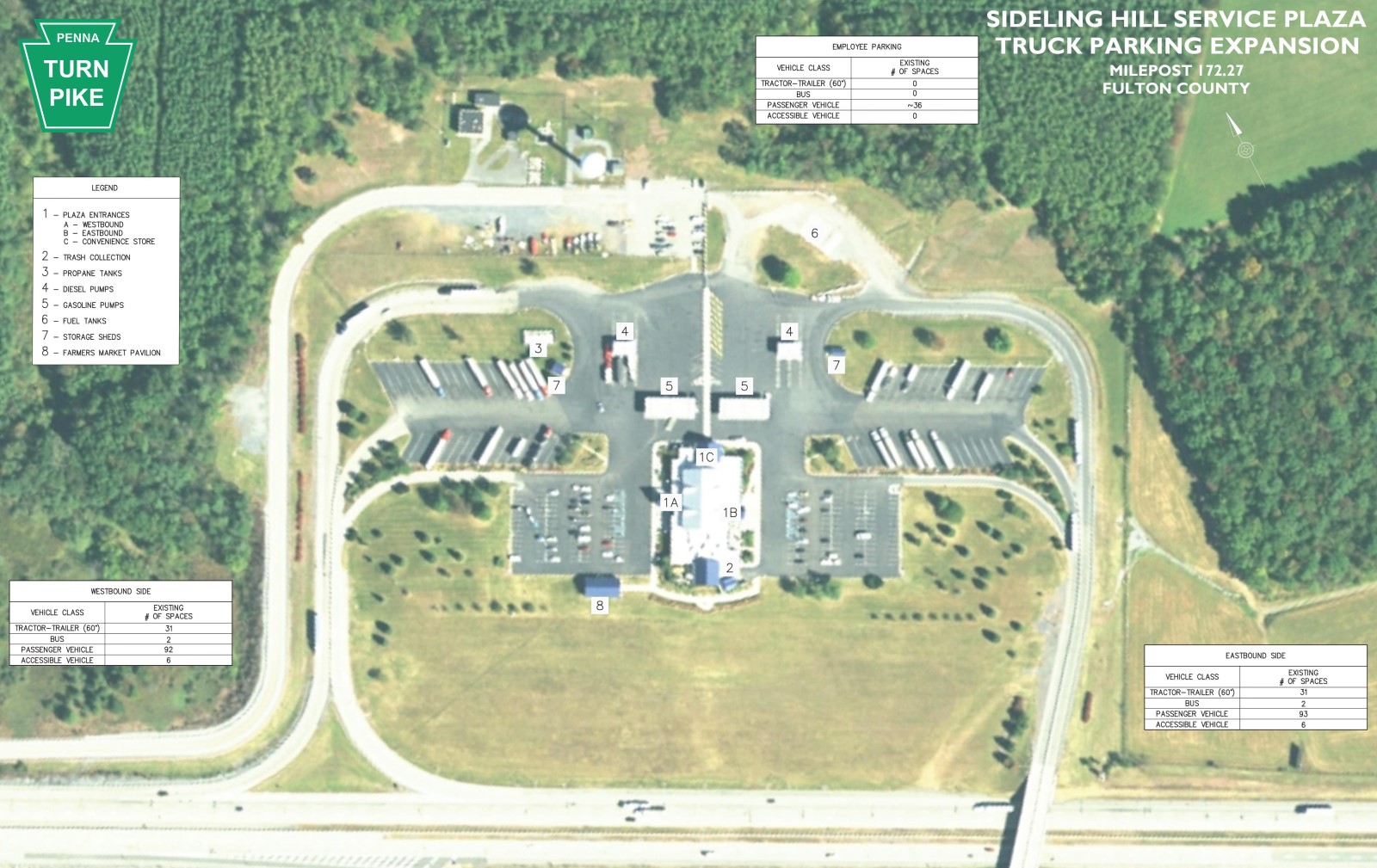 ---
Truck Parking Expansion Conceptual Plan