Project Overview
The Pennsylvania Turnpike Commission is developing plans to link Interstate 81 and the Turnpike's Northeastern Extension, Interstate 476, in the Scranton area to form a beltway that will help ease congestion on I-81. The plan calls for highway-speed connections that will enable motorists to seamlessly drive from interstate to interstate in northbound and southbound directions.
The project will include two separate connections between the Turnpike's Interstate 476 and PennDOT's Interstate 81
Clarks Summit to the north of Scranton in South Abington Township, Lackawanna County
Wyoming Valley to the south of Scranton in the Borough of Dupont and Pittston Township, Luzerne County
Making the links between the two highways more convenient will attract more vehicles onto the Northeastern Extension and help ease congestion on I-81. More than 70,000 vehicles a day use portions of I-81 through the Scranton region, while the Northeastern Extension carries about 10,000 vehicles a day.
Funding for the Scranton Beltway Project comes as a direct result of the 2013 passage of Act 89, Pennsylvania's comprehensive transportation-funding measure.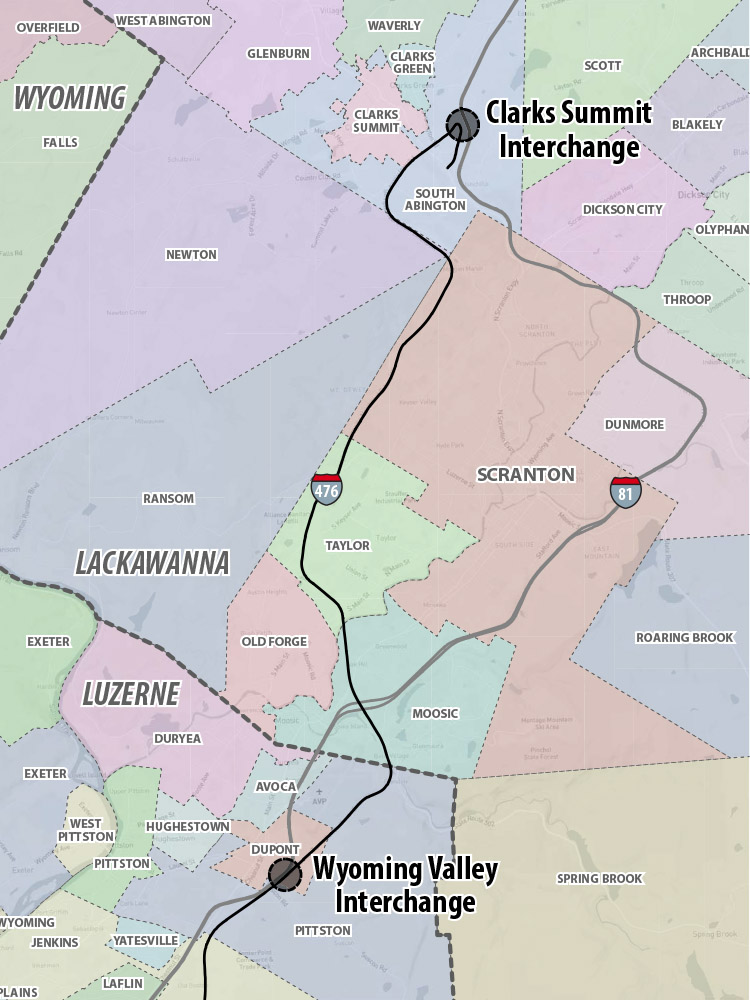 Preliminary Design
Study Phase: Spring 2018 - Spring 2019
Preliminary Engineering/Environmental Assessment/Design Field View: Spring 2019 (COVID Pause) - Spring 2024
Public Meetings: Fall 2023
Public Hearing: Summer 2024
Next Steps
Final Engineering Design: 2024 - 2028
Construction: 2029 to 2032...