PTC to Introduce New Truck Parking App
The Commission is working with Intelligent Imaging Systems (IIS) on a new app that will provide roadside alerts with real-time truck parking availability, which will reduce illegal parking, allow truckers to plan better and operate more efficiently, and improve safety for all motorists.
The new Truck Parking Information Management System (TPIMS) includes the installation of sensors and cameras at high-volume service plazas to detect when trucks vacate a parking space. Space "availability" is then relayed to roadside signs that give truckers real-time information – the actual number of spaces available -- for better planning. The information will be provided through in-cab alerts by third-party application developers. IIS' sister company, Drivewyze, will also provide notifications through its Driver Safety Notifications program.
Because Pennsylvania provides easy access to major cities on the East Coast, our state has long grappled with a shortage of truck parking, and the dramatic rise in e-commerce in recent years has turned the state into a major warehousing and trucking destination.
The app will be launched in the spring of 2021 and will provide real time availability for at least six service plazas to be determined.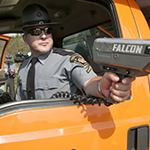 Work Zone Safety Committee Sees Crashes Decline
A study by Michael Baker International found that the Commission's Work Zone Safety Subcommittee, made up of PTC employees from various departments, has proven its effectiveness.
While national work zone crash rates have been relatively consistent since 2014 with no indication of decline, work zone crash rates along PA Turnpike roadways have declined more than 30 percent since the committee's inception in January 2015.
The committee spearheaded several safety innovations including removing median signs, encouraging construction employee, and customer compliance to PA Turnpike safety policies and standards, implementing new technologies such as sequential lights in transition areas at night and the usage of LED hard hat lights, increasing public awareness of Work Zone Safety, and partnering with Waze to provide construction zone information directly to the app rather than relying on users to report work zone locations.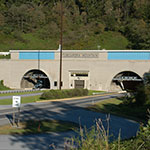 Commission to Issue Bids for Inspection of PA Turnpike's Iconic Tunnels, MS-4 Permitting
The Commission will issue two significant requests for proposals this fall:
The Commission is seeking proposals this fall for firms to conduct in-depth inspections of the system's five tunnels, which are now federally mandated to occur every two years. The inspections can take up to three weeks per tunnel. Any issues discovered are addressed immediately. The project will be managed by the Maintenance and Facilities Department and will include the inspection of electrical, mechanical, ventilation, fire control, and lighting systems.
The Commission will also issue a Request for Proposals for firms to assist in developing an update to the agency's Municipal Separate Storm Sewer System or MS4 permit, which is a key element of the Commission's broad efforts to reduce pollutants and manage stormwater runoff. The Commission was first issued a MS4 permit by the Pennsylvania Department of Environmental Protection (PADEP) in 2006 which applies to approximately 220 miles of the 552-mile corridor.
To prevent pollutants from being discharged into streams and rivers, the Environmental Protection Agency (EPA) and PADEP require that municipalities and entities such as PTC develop a stormwater management program to reduce pollutants from being discharged to waters of the Commonwealth. The Commission is working with PADEP to determine requirements of the next MS4 permit which will include a Pollutant Reduction Plan (PRP) component. The MS4/Stormwater Unit in the Engineering Department is the primary group responsible for compliance with the MS4 permit.
For decades, PTC has taken numerous steps to better control stormwater runoff as well as to limit impurities in runoff across the system. Click here for more information.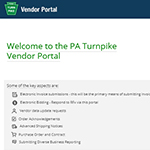 New Vendor Portal Goes Live
The Commission's new Vendor Portal went live on September 21st. The new Vendor Portal allows vendors to manage their accounts including addresses, contact information, and tax and banking information, through the portal. Administrators at each company will have authority to add or delete contacts and assign appropriate roles for using the portal.
Please note that this portal will NOT REPLACE the existing Engineering & Construction Management System (ECMS) or the Electronic Bidding System. Vendors currently using those systems will continue to do so. This portal will serve all other business partners.
Click here to access our Vendor Portal page, which includes a series of FAQs.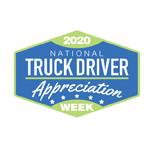 Commission Joins Effort to Thank Truckers
The Commission has built strong partnerships with our commercial business partners and trade associations, and we are pleased to recognize last week's National Truck Driver Appreciation Week. Truckers, much like our maintenance team, have stepped up during the coronavirus pandemic to overcome significant challenges and keep the economy moving. There are more than 3.5 million professional truck drivers nationwide, delivering the essential goods families rely on – from food to fuel to medicine to clothing. The hard-working men and women behind the wheel safely transport over 10 billion tons of goods and products every year, which account for 70 percent of America's total annual freight.
Pandemic Continues to Impact Traffic and Revenue
Traffic volume and revenue remain significantly lower than 2019 levels. The Commission will continue to respond to these impacts while delivering on our commitment to ensure safe travel for all customers across our system.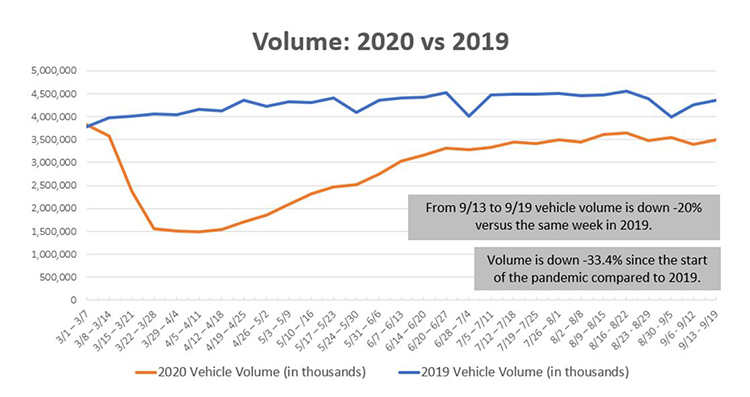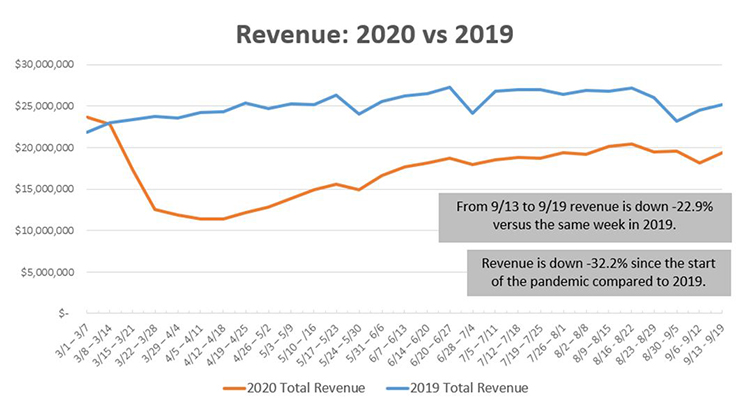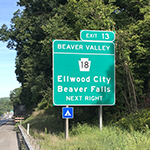 Beaver Valley Interchange Closed for Resurfacing Project
The Beaver Valley Interchange, Exit 13, in Beaver County will be closed for three weeks so crews can resurface the ramps that lead to and from the interchange.
Motorists will be unable to enter or exit the Turnpike at the interchange through Oct. 9.
All motorists traveling the Turnpike and wanting to exit at the Beaver Valley Interchange will be diverted to the New Castle Interchange, Exit 10, where a detour will be in place leading them to State Route 18. Traffic wanting to enter the Turnpike at the Beaver Valley Interchange will be detoured to the New Castle Interchange using State Route 18 and State Route 351.
In addition, for short periods of time, State Route 18 between Fairlane Boulevard and Wallace Run Road will be restricted to a single lane in each direction while work at the ramps takes place.