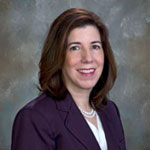 A Note From Our Chair
The PA Turnpike is a $1.2 billion enterprise with close to 2,000 employees working across an expansive interstate system that helps to drive state and national economies. Having said that, our agency shares one challenge with every business and family we help serve: working and living within our means. We need to juggle expenses and income. Like home and business owners, we must make smart investments to protect our assets, and our 552-mile system presents unique challenges.
Against that backdrop, in this edition of The Road Ahead, we're providing an update on a toll increase approved for 2020 and our ongoing efforts to manage costs while making essential major investments in construction and renovation projects. Tolls will increase by six percent for all customers in January 2020. This increase is due principally to our mounting debt costs, which include annual transfers to PennDOT for transit operations and our rebuilding campaign. Raising the cost of travel for customers is never easy — but it is necessary. I am proud that our team has achieved significant savings in our operations.
While our debt load has forced us to reduce our capital campaign by $1 billion over a decade, you will see that we continue to make critical investments across the system. This fall, we will replace two bridges using an innovative Accelerated Bridge Construction (ABC) method. Using ABC, we can replace a bridge in a matter of days — rather than a full year or more with traditional methods. We will kick off a $109 million rehab of the Tuscarora Tunnel this fall as well.
Finally, I am pleased to report that we have garnered international attention for an innovative GIS, web-based tool our team developed that helps us detect and respond more quickly and effectively to incidents on our road. The International Bridge, Tunnel and Turnpike Association (IBTTA) will present the PTC with a technology award at its annual conference in September. At America's First Superhighway, our innovative team is leading our industry. We are building the highway of the future.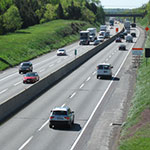 PTC Approves 2020 Toll Increase
The Commission approved a six percent toll increase for 2020 that is largely driven by annual $450 million payments to PennDOT for transit operations around the state. The payments are mandated by Acts 44 and 89, and funding for the PTC's 10-year capital program.
The increase takes effect Jan. 5 for E-ZPass and cash customers. It comes as the PTC is working with lawmakers, PennDOT, transit partners, and stakeholders across the state to identify solutions to the state's looming transportation funding crisis.
As a result of current state law, the PTC has been forced to raise toll rates for 11 straight years and has driven the agency's debt levels to more than $11 billion. The agency has reduced its rebuilding program by 13 percent — roughly $1 billion — and cannot consider any potential expansion projects, including new interchanges in Bucks, Chester, and Montgomery counties.
In July, the PTC issued $800 million in subordinate municipal bonds to help fund $900 million in Act 44/89 payments for the 2019 and 2020 fiscal years. The Commission has provided PennDOT $6.6 billion since 2007.
"Due to this onerous funding requirement, nearly half of the PA Turnpike's FY 2020 toll revenue will go to pay debt service alone," said Mark Compton, PTC CEO. "Anticipated toll revenue is estimated at $1.4 billion for the fiscal year, and our debt service payments are roughly $700 million for the year."
Compton stressed that the PTC will make necessary investments to maintain and rebuild the system. He also noted that, for FY 2019, the agency is projecting that operating expenses will come in $40 million under budget. In addition, actual expense growth over the 2018 fiscal year is projected to be less than one percent.
For more information on Act 44 and its impact on the PTC, please visit here.
For more information on the PTC's efforts to address this funding crisis and its partnership with key transit leaders, PennDOT and other partners, please visit here.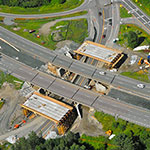 PTC to Replace Two Bridges Using ABC Process
The PTC will replace two bridges in September, one in Lehigh County and one in Cumberland County, in a handful of days by using the innovative and groundbreaking Accelerated Bridge Construction (ABC) technique.
ABC allows the PTC to deliver new bridges more quickly and efficiently. It is safer for motorists and construction crews, and it reduces the impacts associated with traditional bridge projects. It is important to note that there will be closures associated with these projects, and all motorists are urged to use alternate travel routes during the closures.
In Lehigh County, at milepost A58.88 on the Northeastern Extension, a 55-hour closure is scheduled to begin at 9 p.m., Friday, Sept. 6, and extend until 4 a.m., Monday, Sept. 9.
In Cumberland County, at milepost 238.09 on the PA Turnpike Mainline, on the eastbound lanes, a 59-hour closure is scheduled to begin at 7 p.m., Friday, Sept. 20, and extend until 6 a.m., Monday, Sept. 23. On the westbound lanes, a 59-hour closure is scheduled to begin at 7 p.m., Friday, Sept. 27, and extend until 6 a.m., Monday, Sept. 30.
The PTC first used the ABC approach in 2017 for a bridge replacement in Beaver County. That bridge was replaced in 55 hours during one weekend. Please visit here for a 30-second time-lapse video of that project. Design and Construction information can be found here.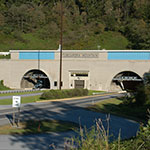 PTC to Launch Major Tuscarora Tunnel Rehab
This fall, the PTC will launch a four year, $109 million project to improve and modernize the Tuscarora Tunnel, located on Interstate 76 at mileposts 186-187 between the Fort Littleton and Willow Hill interchanges on the Huntingdon County/Franklin County line.
Some of the major tasks to be completed will entail a nearly eight month closure of the eastbound tube starting in mid-November. It will be closed Sunday nights at 10 p.m. through Fridays at noon, with all vehicles transitioned to two-way traffic in the westbound tube. All traffic in both directions will merge into one lane approaching the tunnel, with a 40 mph work zone speed limit. This pattern will continue until Independence Day 2020, with no overweight/over-dimensional vehicles permitted.
During the single lane, two-way traffic, motorists in this area are cautioned to expect delays of 30 to 60 minutes during peak weekday travel times.
The rehabilitation of the eastbound and the westbound tunnels will include a new ventilation system, new pavement and tunnel lining, new shoulder barriers and walls, a new electronic control and monitoring system, new lighting, and improved drainage.
The eastbound tube opened in 1940, and the westbound tube opened in 1968. The two tubes were last renovated in the 1980s.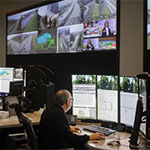 PTC Earns International Kudos for Innovative GIS Project
The PTC will receive an innovation award from the International Bridge, Tunnel and Turnpike Association (IBTTA) in September for the development of a groundbreaking GIS-based web application that provides PTC team members with a new set of tools to respond proactively to changing conditions across the 552-mile system.
The tools that compose the Catch it Early, Act, Analyze and Review system increase the visual awareness of traffic operations, allowing the agency to more quickly detect and evaluate incidents and identify relevant emergency service providers.
The PTC's GeoAnalytics and Traffic, Engineering, and Operations teams partnered with Waze, AccuWeather, INRIX, and Verizon to gain access to real-time data feeds to develop a GIS dashboard that displays the data, as well as video, photos, radar, wind, travel speeds, weather, traffic conditions, and the PTC safety and truck locations.
"I am especially proud of our team for developing this tool because it reflects our dedication to safety, the willingness of team members to pull together and work across all departments, and our commitment to deliver innovative, industry-leading solutions," CEO Mark Compton said.
The PTC will receive the award during IBTTA's Annual Meeting and Exhibition.