Note From Our Chair
Welcome to the October edition of the PA Turnpike's quarterly newsletter. While it may seem premature to discuss winter when fall foliage is just peaking, some sources have forecast a snowy one.
And it's never too early to prepare.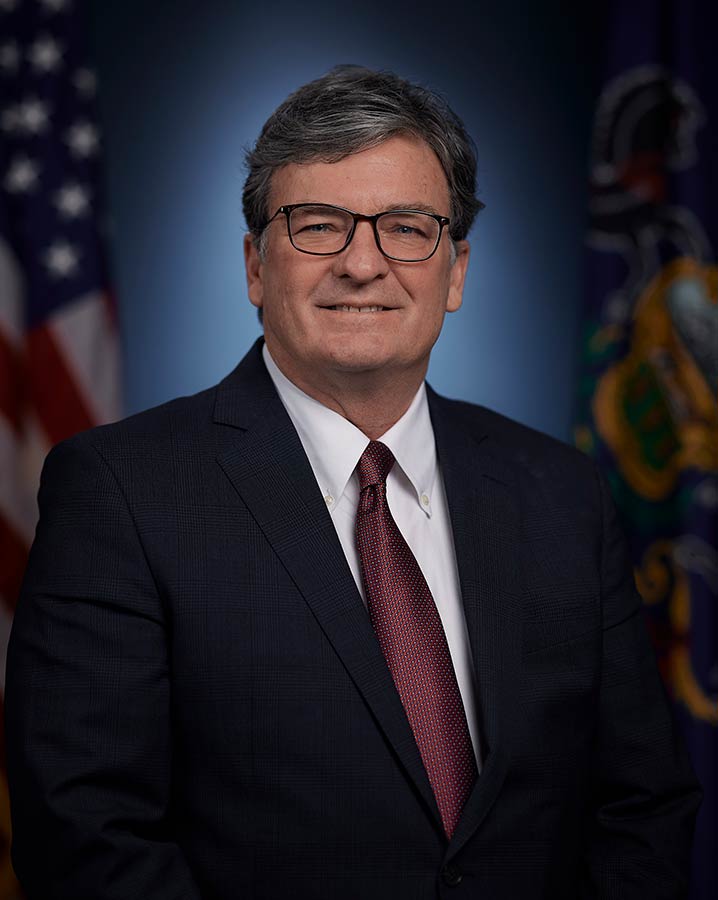 Turnpike crews are responsible for maintaining more than 2,900 snow-lane miles — which are the number of linear miles multiplied by the number of lanes. In essence, it's comparable to plowing a single-lane road from Harrisburg to Seattle. The goal is to keep the Turnpike as snow and ice-free as possible. To accomplish this, we deploy 425 licensed operators and more than 400 trucks, plows, and salt spreaders treating roadways around the clock.

The Turnpike's Maintenance Department, like PennDOT, begins planning for winter right after the previous winter has ended. And while we don't expect that level of commitment from motorists, as drivers, we do have an obligation to be ready for the inevitable flakes to fall.

During storms, our advice is to avoid travel unless necessary, but if you must travel, be sure that you and your vehicle are prepared. Also, during even routine winter weather events, you should ask yourself, "Is travel an absolute necessity, or can I wait until after the weather has passed?" If motorists encounter snow or ice-covered roads, they should slow down, increase their following distance, and avoid distractions.

As for our story lineup in this edition, you'll read about a new role for a couple of abandoned PA Turnpike tunnels. You'll learn about the PA Turnpike's version of "Shark Tank," a competition focused on streamlining innovative solutions for deployment on our roadway and elsewhere. And we'll report on the Turnpike's new partnership aimed at recognizing truck drivers across Pennsylvania.

I hope you enjoy the read!

Sincerely,
—Mike
Mike Carroll, Chair, PA Turnpike Commission & PennDOT Secretary
REHAB PROJECT TO TURN ABANDONED TURNPIKE TUNNELS, ROAD INTO BIKING, HIKING TRAILS
What's old is about to become new again on the abandoned PA Turnpike.
The Bedford Fulton Joint Recreation Authority, the regional group responsible for trying to revitalize an 8.5-mile-long stretch of the Turnpike the Pennsylvania Turnpike Commission bypassed in 1968, announced last month they've received state and federal grants that will go toward rehabbing the old highway into a recreation destination.

The authority discussed the future of the project at a ceremony in front of the old Sideling Hill Tunnel. Local leaders were joined by representatives from the state Department of Conservation and Natural Resources, the Department of Community and Economic Development, and the Turnpike.
The revitalization project was on display last week at the abandoned PA Turnpike tunnel.
It's been more than a two-decade effort for Bedford and Fulton County leaders to rehab the historic infrastructure since the Turnpike sold the right-of-way that includes the Sideling Hill and Rays Hill tunnels plus the Cove Valley Travel Plaza, on what's now dubbed the Old PA Pike Trail.
13 miles of the original Turnpike route that followed tunnels originally built as part of the unfinished Southern Pennsylvania Railroad were bypassed as the rapidly growing Turnpike sought solutions to traffic jams that bottlenecked at the two-lane tunnels. While four of the original tunnels were double-barreled, the Turnpike built a short bypass around the Laurel Hill Tunnel in Somerset County and a longer stretch around Sideling Hill and Rays Hill.
In the subsequent years, the Turnpike used the closed highway as testing grounds for everything from emission levels to rumble strips. Since the Turnpike sold the land to a local conservancy in 2001, Bedford and Fulton County civic leaders have been trying to turn the deserted road into a hiking and biking trail.
"The next generation is going to be a big part of using this as a showcase for this region," said Mark Compton, Pennsylvania Turnpike Commission CEO. "And we know when we come back here, we are all going to be proud of what you've done."
The Turnpike also got an opportunity to announce the construction of a new bicycle trailhead facility at the nearby Sideling Hill Service Plaza, which was originally built to replace the bypassed Cove Valley Plaza.
Promoted as "Your Gateway to the Alleghenies," the trailhead will serve both turnpike and community users as an entrance not just to the abandoned turnpike trail, but to over 600 miles of trails within a 25-mile radius of the trailhead. It will also allow users to access the service plaza and its numerous amenities ranging from food service to restrooms, as well as a covered pavilion with seating areas, bike racks, a bike wash and a repair station.
"We at the Turnpike strategically are striving to be a better neighbor and we see this as a true opportunity to do that," Compton said. "I'm excited to be a small piece of this and we're excited to see what you're doing with these eight miles that were once a part of the Turnpike."
"With the guidance and assistance of these agencies, I can truly say that the authority now can see the light at the end of the tunnel," said Jim Edwards, Chairman of the Bedford Fulton Join Recreation Authority.
VIDEO STORY: Funding Announced to Rehab Abandoned Turnpike (vbrick.com)
TURNPIKE VOLUNTEERS HELP GIVING GARDEN GROW
Just about every day around lunchtime – and sometimes in the evenings and even over the weekends – a group of PA Turnpike central office volunteers trade in their laptops for work gloves and head outside to get dirty.
"I grew up pretty much on a small farm and literally had my feet and hands in the dirt from the time I could crawl until I got here," Engineering Planner Pam Hess said. "Watching it growing from a tiny seed to a fruit or vegetable and then cooked into bountiful food for people – it's amazing."
Hess is talking about the PA Turnpike's Giving Garden, a plot of land outside of the Central Administration Building near Middletown.
The PTC Women's Network planted the first seeds of the Giving Garden several years ago as a fun way for Turnpikers to exercise their green thumbs for a good cause. Volunteers tend to the garden all summer long and donate the entire harvest to local food pantries.
Hess is heading up those efforts this year with coworkers Ali Sebring, Brenda Beal, Kathy Brilla, and their team of volunteers, and they are all excited to see the garden come into bloom like never before – to the tune of 1,500 pounds of vegetables harvested.
Anyone who walked along the trail between the central office parking lot and Harrisburg East Interchange would have noticed the lush, green garden bursting with vegetables. Sebring attributes the success to ideas that came from Fleet Maintenance Supervisor Von McGee and Manager of Maintenance Programs Jim Bence. McGee recommended installing a drip line, connected to a water spigot and hose, timed to water the plants periodically throughout the day, and Bence suggested placing newspaper and straw around the plants to control the weeds. And it's paid off.
"It's just been growing with God's good grace, lots of rain and sunshine," Sebring said.
Sebring, Hess, and the team are all quick to point out it's been a group effort with the help of volunteers from each department, taking turns to help out.
"Many hands are making light work, and our pantries are really enjoying the fruits of our labor," Sebring said.
Click here to watch the full story on the PA Turnpike's Giving Garden.

The PA Turnpike's Giving Garden leaders this year included (from left) Kathy Brilla,
Ali Sebring, Pam Hess and Brenda Beal.
TURNPIKE SHOWS APPRECIATION TO TRUCK DRIVERS WITH SPECIAL EVENT AT SERVICE PLAZAS
The PA Turnpike Commission gave special thanks last month to the men and women who spend long days and weeks on the road to ensure the transport of needed supplies.
The Turnpike partnered with the Pennsylvania Motor Truck Association in recognition of National Truck Driver Appreciation Week the week of Sept. 11, to pay respect and thank the nearly 3.6 million professional men and women truck drivers who undertake one of the economy's most demanding and important jobs.
On Sept. 12, truck drivers were offered coupons for a free beverage and a donut courtesy of Dunkin' Donuts at the Sideling Hill Service Plaza, as well as an opportunity to enter a raffle for a chance to win a family package to Hersheypark, and win PMTA prizes.
Truck drivers are important customers to the Turnpike. While they make up roughly 15% of the Turnpike's traffic, they account for nearly 60% of its toll revenue.
Truckers who stopped by expressed their appreciation for the grateful nod to their work and took note of the work being done at the plaza to make their stops there a little easier.
Traffic Operations Program Supervisor John Parker and his team have long realized how important truckers are to the Turnpike and have been working to make their treks more pleasant.
"One of the main issues is we don't have enough truck parking available in the state," Parker said. "We were in a definite shortage, but the Turnpike started expanding its truck parking at Lawn and Highspire (service plazas) and is going to expand at Sideling Hill."
The Turnpike currently has 868 truck parking spaces, and construction underway at the Sideling Hill Service Plaza will increase that number by 63.
Beyond that, between 5 p.m. and 2 a.m. each day, digital signs near 10 of the Turnpike's service plazas let truckers know if parking is available. Parker explained the system uses pucks in the pavement that read trucks as they come and go, keeping a tally and digitally updating the message signs. He added a pilot project will start soon using artificial intelligence cameras to get a precise count on just how many spaces are available at one of the service plazas.
"The biggest concern is we don't want these guys out there driving tired," Parker said. "I think we're going in the right direction to put the message out."
The PTC and PMTA also thanked drivers at an event Sept. 14 at Allentown Service Plaza.
TURNPIKE TRAFFIC OPS CENTER HELPS RESCUE DOG ON THE LAM
Cola had quite an amazing journey.


From Texas to Mechanicsburg and then to the PA Turnpike's Central Administration Building near Middletown, she's very lucky to have been rescued with a little help from the Traffic Operations Center.

"I've been a volunteer firefighter for a lot of years now, so I'm programmed to help whenever I can," said Operations Center Supervisor Gary Dressler, who was part of the team that jumped in to save the young husky. "It's just what we do."

It all started in June when Cola was a stray in Texas, running with a pack of dogs. At the same time, Mechanicsburg Police Chief Margaret Myers was looking for a new, furry friend. She found St. Mutt's Rescue in Texas and instantly fell in love when she saw Cola's photo.

But after running free for the early part of her life, then enduring a 21-hour ride in a crate, being integrated into a new home was not an easy transition for the pup. Myers only had Cola for a day when she slipped out of her collar and ran away. And Cola kept on running. For 35 days.

Myers listed Cola as missing on Find Toby in PA, a volunteer organization with a dedicated social media following, who reported Cola sightings throughout Cumberland County. For more than a month, the Find Toby team would get word that Cola was spotted in Camp Hill, Lemoyne, and even running through some dangerous areas of heavy traffic. She likely crossed a railroad bridge to get into Dauphin County, volunteer Kim Bolden said.

It wasn't until the night of July 21 that the husky showed up at the Central Administration Building – 15 miles away from Myers' home. That's where Turnpike Traffic Ops Dispatcher Jonathan Kibe spotted her playing in the grass.

"It looked like she was having a great time," Kibe said.

Kibe, himself a dedicated dog owner, searched Find Toby, found Cola's listing, and called to alert Bolden.
The following day, Bolden and her team came to the CAB and set up cameras and some food and water (including treats from the nearby Wendy's and Taco Bell – Cola spent some time there, so why not?), trying to entice her into a crate. But, well… Cola's a runner.

Kibe signed off the night shift, but Dressler and the rest of the Ops Center team kept an eye on the cameras and called Bolden whenever they saw Cola running around. Dressler and Kibe both stopped by the Central Office, across the road from the Ops Center, during their break and after their shifts to see if they could help.

It wasn't until the morning of July 23 when Bolden set out more food and water and went away to watch the cameras that Cola wandered into the crate, which has a door that shut automatically behind her.
Myers was thrilled her dog is safe.

And at the Traffic Ops Center, it was all in a day's work.

Whether they have two legs or four legs, every customer matters," Dressler said. "We've all gone above and beyond to help our customers. It's just what we do."
TURNPIKE 'SHARK TANK' SPARKS NEW IDEAS, INNOVATIONS USED ON ROADWAY
The PA Turnpike was innovative from the get-go – it's America's First Superhighway, after all.

But how do you keep up that kind of trend after 83 years? Well, that's the job of the Innovation Council, which has been finding fun and exciting ways to develop and foster ideas since 2015.

Senior Engineer Project Manager and council co-chair Justina Wentling said one of the core tenets of the Innovation Council comes down to the old saying – "There is no such thing as a bad idea." Every idea is worth examining, and co-chair and Manager of Procurement and Planning Karen Ruch finds some of the best ideas come from those who work on the highway day in and day out who may just know "how to build the better mousetrap."

The council lends a hand in turning those great ideas into a reality, but members also strive to inspire the next big innovation. And what better way is there to do it than a game?

September marked the third year of the Innovation Council hosting its own version "Shark Tank." Just like the television show of the same name, Shark Tank contestants come before a panel of judges and present their innovations and inventions, all in the name of boosting safety, improving traveler experience, finding income sources from areas other than tolls, and making the Turnpike the best it can be.

This year's winners were Naomi Morris and Nate Bordner from Traffic Operations (pictured above), who presented their idea for a Zinc Battery CCTV Pilot Project. They took the top prize, but all ideas presented will be considered for implementation at the Turnpike.

"The zinc battery will hook up to a CCTV camera that goes on any light fixture along our exit ramps or entrance ramps around the interchanges," Bordner explained. "During the day, the camera is powered by the battery, and in the evening when the lights are on and there's electricity going through the lights, it recharges the battery and runs the camera."

Besides being economically and environmentally sound, both Morris and Bordner said their project is primarily about safety by providing enhanced camera coverage of the Turnpike and allowing crews to deploy to incidents faster with more situational awareness.

It's one of 60-plus ideas that have come before the "sharks" in the last three years – and some have already been implemented, like an air horn used to alert distracted drivers of workers ahead and FotoKites to get an aerial view of highway incidents.
AIRHORN VIDEO: https://paturnpike.rev.vbrick.com/#/videos/5ef9fa38-b07a-4d12-a919-50831fe00a98

FOTOKITE VIDEO: https://paturnpike.rev.vbrick.com/#/videos/f9bc713c-01ff-4c86-ab6f-435c26a63fae

"Innovations aren't always big, shiny pieces of technology," Ruch noted. They can be simple, everyday fixes that make a world of difference. "I feel very proud of the commission for just the fact that the employees feel so empowered to come forward with their ideas."