A Note From Our Chair
I readily concede that, for most motorists most of the time, "Construction Ahead" signs are a less-than-welcome sight. Orange cones or barrels and lane closures can seem like nothing more than a nuisance on the way home. In our business, however, major construction projects reflect a commitment to ensuring safe and efficient travel for motorists and our role as a driver (excuse the pun) of our national economies. Such is the case with the completion of the direct connection between I-95 and the PA Turnpike, which we were proud to celebrate last month.
Those orange signs should also serve as a strong reminder to all motorists to slow down, follow the traffic signs and pay attention. As construction season winds down, the PA Turnpike Commission is in the waning stages of our Go Orange safety campaign; I am especially proud of the recent unveiling of a traveling monument dedicated to the 41 employees who have lost their lives on the job. We also are stepping up partnerships with other state agencies to bolster safety for first responders with our new PennTIME initiative.
Finally, beyond improving our system and operations above ground, the PA Turnpike has been engaged in a long-term initiative that deals with a significant underground challenge – managing stormwater runoff to help protect one of our most valuable resources… clean water. I am proud to share an update regarding our effort to meet this challenge. We take our role as environmental stewards seriously and this effort will help us honor that commitment.
Thank you for your continued interest in our operations and impact on the state and, please, drive safely. (Please feel free to pass along The Road Ahead to your colleagues. They can sign up here.)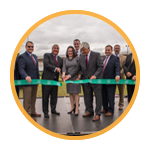 I-95 is Link Now Complete
Interstate 95 is now complete from Florida to Maine, and more importantly for regional traffic, a direct connection linking I-95 and the PA Turnpike in Bucks County will help to reduce congestion and commute times for thousands of motorists each day. The PA Turnpike joined with funding partners Sept. 21 to mark the opening of the highway-speed interchange connecting the two interstates.
"This was a massive project and one that would not have happened without our partners at PennDOT and the Federal Highway Administration (FHWA)," said PA Turnpike Chair Leslie S. Richards. "Local commute times and congestion will be lowered and, nationally, this 'missing link' of I-95 finishes one of our largest and most important infrastructure projects."
Chair Richards noted that I-95 is the most-used highway in the nation, as measured by vehicle miles traveled. The project would not have been possible without the new highway-speed cashless Toll Point at the PA Turnpike Bridge over the Delaware River.
The next stage consists of the six remaining interchange movements between Interstates 276, 95 and 295, and Stage 3, a future Delaware River Bridge project. All these projects are largely dependent on funding. For more information on the project, Click Here.
To view drone and event photos and video from the I-95 Link opening weekend please click here.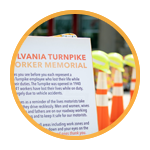 'Go Orange' Campaign Continues
The PA Turnpike's mission is "To operate a safe, reliable, customer-valued toll road system that supports national mobility and commerce," and we like to remind motorists, employees and business partners that safety, literally, leads our mission.
This spring, we launched an annual tradition with our first Work Zone Safety Remembrance event. Employees took part in an event to honor the 41 PA Turnpike workers who died while performing their duties. The event included the unveiling of the PA Turnpike's new Lost Worker Memorial, which took place at the PA Turnpike's Somerset Maintenance Facility and was broadcast to all PA Turnpike facilities.
"We have 500,000 motorists a day using our system. Hundreds of our employees, PA State Troopers, and our business partners are in harm's way while they're doing their jobs," said PA Turnpike CEO Mark Compton. "We cannot repeat the message often enough: Please slow down, obey the signs and pay attention. Lives depend on it."
For more on our Safety Campaign, please click here.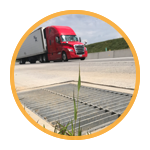 Clean-Water Program Takes Form
The Pennsylvania Turnpike Commission (PTC) is developing an innovative approach to one of the agency's largest and most important challenges – managing millions of gallons of stormwater runoff to improve its quality and keeping our waterways clean.
"We are working closely with state and federal agencies to strengthen our systems to better manage this entire process and protect one of our Commonwealth's most valuable natural resources — clean water," said Pennsylvania Turnpike Chair Leslie Richards.
The PTC's stormwater collection system includes numerous storm inlets, pipes, drainage ditches, and retention basins necessary to manage runoff. This component of the PA Turnpike System is so vast that under state and federal requirements that the Commission is categorized much like a municipality or a local water or sewer authority and is required to secure approval for a Municipal Separate Storm Sewer System — or MS4 — plan that will soon result in even cleaner stormwater discharges from our roadway.
"To get an idea of the challenge we're confronting, I encourage readers to watch the runoff on their street or driveway during the next storm and then multiply it across 552 miles of impervious pavement — some of it six lanes wide," said Chair Richards. "We take very seriously the impact we have on the streams and rivers that run along or under our road, and we are diligently working to reduce that impact as much as possible."
The Commission is working with the Pennsylvania Department of Environmental Protection (PADEP) and the United States Environmental Protection Agency (EPA) to improve, refine and strengthen its MS4 plan. The process is ongoing, but we encourage customers and partners to visit our Clean Water web page by clicking here for more background and updates on this important enduring initiative.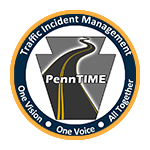 Five Agencies Partner on Safety Initiative
The Commission has joined four state agencies to create the Pennsylvania Traffic Incident Management Enhancement program (PennTIME), which is designed to reduce highway incident clearance times and improve first-responder safety while keeping traffic moving.
PA Turnpike CEO Mark Compton noted that each day, Pennsylvania witnesses 355 reportable crashes that cause three fatalities and 227 injuries, on average.
"This is an important step forward. We all recognize that we can do better to protect first responders, and motorists and we need to constantly improve our communication and coordination to get there," Compton said.
The five agencies are PennDOT, the Pennsylvania Department of Health, Pennsylvania State Police, the Pennsylvania Emergency Management Agency (PEMA), and the PA Turnpike.
To learn more, see this news release.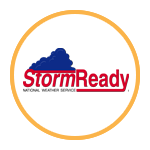 PA Turnpike is 'StormReady'
The National Weather Service (NWS) has recognized the PA Turnpike as a StormReady entity; as such, the Commission has met criteria to be better prepared to save lives from the onslaught of severe weather through advanced planning, education and awareness.
"The StormReady program helps arm government agencies and other groups with communication and safety skills needed to save lives and property before, during and after an extreme weather event," said PA Turnpike CEO Mark Compton. "StormReady helps leaders and emergency managers handle all types of severe weather from tornadoes to tsunamis."
The program advocates a new, proactive approach to improving local hazardous weather operations by providing emergency managers with clear-cut guidelines on how to improve hazardous weather operations.
To be officially StormReady, the PA Turnpike has:
established a 24-hour warning point and emergency operations center
implemented more than one way to receive severe weather warnings and forecasts and to alert the public
created a system that monitors weather conditions locally
promoted the importance of public readiness through community seminars
developed a formal hazardous-weather plan, which includes training severe weather spotters and holding emergency exercises
The Commission worked with the National Weather Service State College Weather Forecast Office and Pennsylvania Emergency Management Agency (PEMA) to complete the certification process.
To learn more, visit this site.