Note From Our Chair
Greetings readers, I'm pleased to have this forum to update stakeholders about projects and initiatives happening at the PA Turnpike Commission, or the PTC. This newsletter had been on a hiatus for a time, allowing us to revamp content and rethink distribution frequency.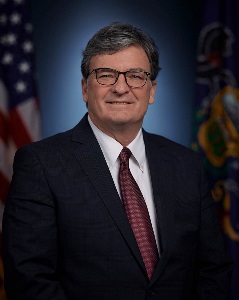 Starting with this edition, the PA Turnpike will publish The Road Ahead (TRA) quarterly in July, October, January, and April. If more timely communications are required due to breaking news, we'll issue a "TRA Dispatch," focused primarily on the matter at hand.
I am indeed honored to serve as a PA Turnpike commissioner and equally grateful for the trust shown by fellow Turnpike commissioners in electing me as chair. I look forward to working closely with them — and with many of you — to ensure we are good stewards of this critical asset.
As chair, I hope to build on the Turnpike's excellent track record of cutting operating expenses, reinvesting capital dollars to improve the 565-mile system and strengthening an already robust partnership with PennDOT as well as communities across the Turnpike.
We have a packed newsletter for you this quarter, beginning with the action my fellow commissioners passed earlier this week: a 5% toll increase that takes effect January 7, 2024. We're also reporting about a pair of significant construction projects in Western PA and providing an update on the next step in the
Commission's All-Electronic Tolling journey.
Thanks for reading and have a wonderful summer.
—Mike
Mike Carroll, Chair
PA Turnpike Commission
COMMISSIONERS APPROVE 5% TOLL INCREASE FOR 2024
PA Turnpike Commissioners on July 18 approved a 5% toll increase, going into effect in January.
While no one likes a rate increase, Chief Financial Officer Rick Dreher pointed out the Turnpike remains one of the most cost-effective toll roads in the nation.
"In comparison to other toll roads, the PA Turnpike is below the average in cost per mile," Dreher said. "Despite the toll increases every year since 2010, we have a lower rate than the national average."
Toll increases may be an annual occurrence, but the Turnpike was forced into them for reasons beyond its control – reasons that have impacted nearly every financial decision for more than a decade.
That reason -- Act 44 of 2007.
This legislation saddled the Turnpike with nearly half a billion dollars in yearly payments to PennDOT to fund transportation needs outside of the Turnpike. Though it came as a major relief when those payments were reduced from $450 million to a more manageable $50 million last year, Dreher said the result was still $8 billion in debt, to be paid over the course of 30 years.
Unfortunately, that means toll increases each year through the remaining lives of the bonds. But the good news is those increases will drop from 5% to 4% in the 2026 fiscal year, then 3.5% the following year and 3% in 2028 and beyond.
And Dreher said the Turnpike has been good at controlling its costs, raising rates the minimum amount possible.
"We had a flat operating budget the last five-plus years," he said. "This past fiscal year that ended May 31, we came in 15% under budget. We're doing an excellent job in controlling our own costs, and the reason is to pay for the debt service."
In paying it down, Dreher and his team have restructured and refinanced that debt as much as possible, resulting in $1 billion savings over the remaining lives of the bonds. And now that the Turnpike is no longer under the full $450 million payments, it can reinvest in the roadway through projects outlined in the 10-year Capital Plan, like Total Reconstruction, which rebuilds the highway and expands much of it to six lanes.
Outside credit agencies agree the Turnpike is fiscally strong despite the challenges. Fitch and Standard & Poor's have both upgraded the Turnpike to a AA credit rating, the second-highest possible. Furthermore, Moody's Investor Services also upgraded the Turnpike's outlook from "Stable" to "Positive," a signal that they are also likely to raise the Turnpike's credit rating to AA.
Another good sign for the Turnpike's financial future is that traffic and revenue are both on the rise. Commercial traffic is up 15% over pre-pandemic levels, and though passenger traffic is still below what it was in the booming year of 2019, it is growing and is up 3.1% over last year. That represents a 5.5% revenue growth over the last fiscal year.
"I'm pleased with our financial position," Dreher said. "I'm pleased to see an increase in traffic on the system. It speaks to the vital importance of the PA Turnpike to our regional and national economics. We're continuing to reinvest in our roadway and we're in the strongest financial position we've seen in a number of years."
With the new rates, the PA Turnpike charges $.15/mile for passenger cars and $.55/mile for 5-axle trucks, below the national average.
Click here to view a chart comparing per-mile rates for toll agencies around the country.
OPEN ROAD TOLLING WEBSITE LAUNCHES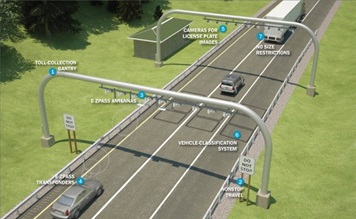 A new page on the PA Turnpike's website dedicated to the next big step for America's First Superhighway launched in May.
The Open Road Tolling page gives customers a rundown on everything they need to know about this next phase of cashless tolling.
Instead of funneling customers through traditional toll plazas, Open Road Tolling will read E-ZPasses and license plates as travelers drive on the highway in a safer and more convenient system.
The new website describes how the technology works with illustrations and diagrams, delves into the benefits for both the Turnpike and for customers and provides a thorough breakdown of everything you need to know.
Open Road Tolling will begin in 2025 in the eastern part of the state and is expected to expand west by late 2026.
MON/FAYETTE EXPRESSWAY CONSTRUCTION BEGINS IN WESTERN PA
The PA Turnpike's next big roadway construction project is underway now that elected officials and the Turnpike Commission have broken ground on the Mon/Fayette Expressway PA Route 51 to I-376 Project's southern section.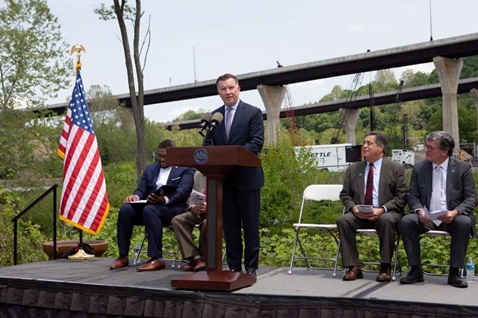 The project has been decades in the making with construction of the first leg of the Mon/Fayette Expressway (PA Turnpike 43) kicking off in 1988.
For 35 years, it has been part of the landscape leading into the Mon Valley. As funding became available, sections of the Mon/Fayette Expressway were completed, creating the current 54 miles of expressway from I-68 near Morgantown, West Virginia, to Jefferson Hills in Allegheny County.
"As a native of the Mon Valley, I'm excited to see the final leg of this project moving forward," Pennsylvania Lt. Gov. Austin Davis said at a groundbreaking ceremony May 22. "This construction will support thousands of jobs right here in southwestern Pennsylvania."
To get started, the Turnpike broke the new stretch of highway into two phases -- south and north of the Monongahela River. The first phase, the southern section, will extend eight miles from PA Route 51 in Jefferson Hills to PA Route 837 in Duquesne, Allegheny County.
"This southern phase alone is so massive that it needed to be divided into seven construction sections at an estimated cost of $1.3 billion," PA Turnpike Commission Chair and PennDOT Secretary Mike Carroll said. "But construction creates opportunity, and we expect that it will generate nearly $2.8 billion for the economy across the Mon Valley." To see the May 22 groundbreaking event, click here.
To keep up with the construction progress as well as any roadway restrictions, check out the project's website.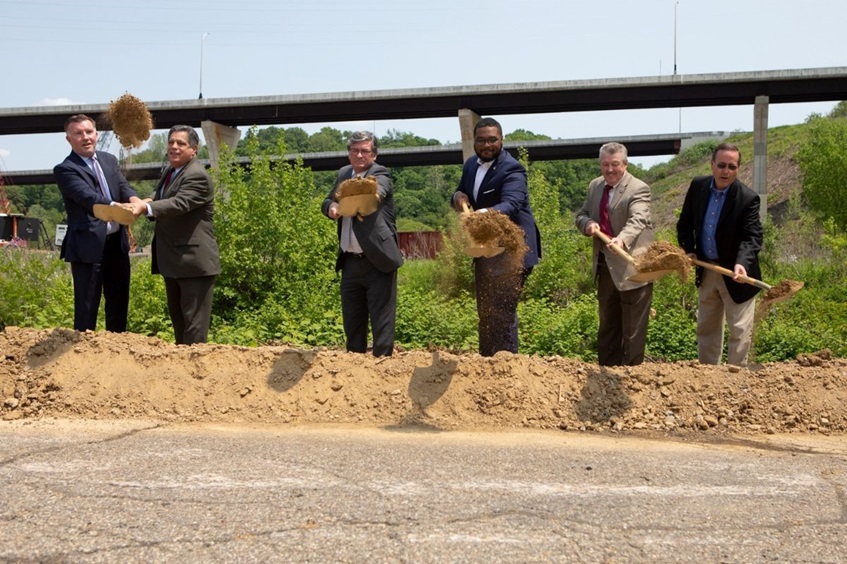 RECONSTRUCTION, WIDENING PROJECT UNDERWAY IN BEAVER COUNTY
For Brad Updegrave, Senior Engineer Project Manager for Bridge/Tunnel Maintenance and Design, it was a project he thought was in the rear-view mirror.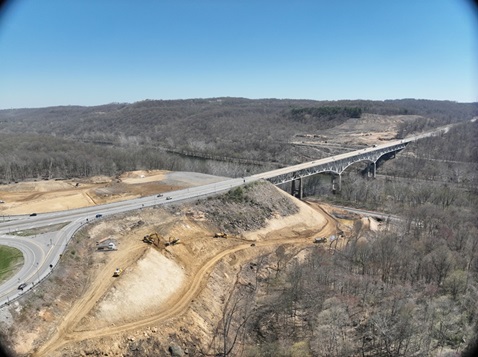 "At the time I was working on this, I was strictly doing design work, bridge replacements, rehabilitations," Updegrave said.
Soon funding for the endeavor was identified and "suddenly, I was told, 'Hey, you got to get this [project] back out,'" Updegrave said.
Now he's watching as construction is underway on a $270 Million Total Reconstruction of a two-mile stretch near the Beaver Valley interchange.
The project will widen the road between Mileposts 12 and 14 in Beaver County to six lanes, new interchanges, some road realignment, and most prominently a new 1,645-foot-long bridge 200 feet over the Beaver River.
Currently, the project is in its early stages of construction. For more on the project, and how it rose back to prominence, watch the video story on vrbick.com.
The project is expected to be completed by the end of 2027.