A Note From Our Chair
I am excited to kick off a new year by announcing a $117 million reconstruction and six-lane widening project in Somerset County. This investment reflects our commitment to providing safe and uninterrupted travel for customers. In addition, this section dates to the original Turnpike construction that was built in the 1930s and opened on Oct. 1, 1940.
This project — located between mileposts 109 and 102 just west of the Somerset Exit — involves a complete replacement of the old road, along with adding a lane in each direction.
We have a responsibility to renew, protect and expand our 80-year-old system to meet growing demand and improve safety. The PA Turnpike is a critical economic driver for our state and nation. So, it is welcome news that we continue to rebuild our 552-mile system, one stretch at a time.
However, the project also serves as a stark reminder of the financial challenges we are confronting. We cannot take these investments for granted. Heading into 2020, we had reduced our capital plan by $1 billion — roughly 13 percent over the next 10 years — due to our mounting debt resulting from $7 billion in payments the PTC has sent to the commonwealth. Under state law (Acts 44 and 89), we are required to transfer $450 million annually to PennDOT through 2022, and then $50 million annually until 2057.
These transfers have fueled our rising debt and have led to annual toll-rate increases that our customers must shoulder. As we move ahead, the PTC will continue efforts to work with lawmakers and Gov. Tom Wolf to identify new, reliable sources of funds for transit operations and other opportunities to provide relief for our customers.
I am looking forward to getting to know the 25 new members of the Legislature and introducing them to the PTC and the role this agency plays. I would encourage all readers to visit our Act 44 Page to learn more. It is imperative for our customers that the reduction from $450 million to $50 million takes effect. In this issue, we have included another reminder about our new toll rates as well. Like previous annual toll-rate increases, these were primarily driven by Act 44 payments. We have also made improvements to our PA Toll Pay App for E-ZPass and Toll By Plate customers.
This new year also brings a new role for our CEO, Mark Compton, who takes over as president of the International Bridge, Tunnel and Turnpike Association (IBTTA). Mark has served as our CEO since February 2013. His involvement and leadership role at IBTTA will serve the PTC and the entire industry well. Thank you for your time and attention. I wish you all a happy and successful 2021.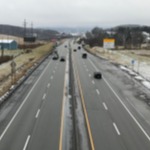 Reconstruction Investment Continues
The PTC broke ground on a major Somerset County reconstruction and widening project this month that will result in another seven miles of totally rebuilt and widened highway.
The $117 million project between mileposts 102 and 109 — being funded with toll dollars as part of the PTC's capital plan, is to be completed in the summer of 2024.
SAI Consulting Engineers will oversee the project that New Enterprise Stone and Lime Co. Inc. will be constructing. The work will include moving 2.7 million cubic yards of dirt, installing stormwater controls including basins and rain gardens, and building three retaining walls.
There will be three travel lanes in each direction. In addition, two segments of the roadway will be relocated to eliminate curves and improve sightlines.
When completed, the PTC will have rebuilt approximately 55 miles of the PA Turnpike between the Irwin Interchange (Exit #67) and the Allegheny Tunnel (milepost 122).
For more information about this project, please visit the project website.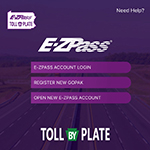 PTC Announces Upgrades to PA Toll App
While E-ZPass is the most affordable way to travel on the PA Turnpike, the PTC has upgraded its PA Toll Pay smartphone app to provide savings to customers who elect to use the Toll By Plate system. The enhanced app now allows non-E-ZPass customers to create an autopay account and receive 15 percent savings on monthly Toll By Plate invoices.
"Given the significantly higher rates now associated with the Toll By Plate option, we wanted to offer an alternative that would provide a measure of relief for travelers," CEO Mark Compton said. The app also allows E-ZPass customers to manage their accounts.
With the Toll By Plate option, high-speed cameras capture license-plate images as vehicles pass by. The registered owner receives an invoice for trips made through the Toll Point. Invoices can be paid online, by phone or by mail. Upon receipt of a Toll By Plate invoice, recipients also have an option to open an E-ZPass account and pay the lowest rate.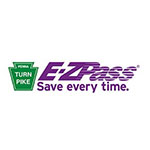 2021 Toll Rates in Effect
The 2021 toll-rate schedule took effect Jan. 3. The PTC implemented a six percent toll increase for all E-ZPass rates systemwide and for the PA Turnpike Toll By Plate rates that had been established prior to the 2020 conversion to All-Electronic Tolling (AET) at these six locations:
Beaver Valley Expressway (I-376)
Delaware River Bridge (New Jersey border)
Gateway Toll Plaza (Ohio border)
Greensburg Bypass (PA Turnpike 66)
Keyser Avenue and Clarks Summit Tolls (I-476/Northeastern Extension)
Findlay Connector (PA Turnpike 576/Southern Beltway)
The PTC also implemented new Toll By Plate rates at all other toll facilities that were converted to AET last year. These rates include the six percent increase along with an additional 45 percent increase over the 2020 cash rate for Toll By Plate. The rates — which reflect the higher cost of collecting this way — were not applied at the six facilities above.
As a result, customers can save nearly 60 percent by using the E-ZPass device in 2021. To learn more about Toll By Plate, please click here.
Currently, 86 percent of PTC customers have chosen E-ZPass. Most of PA's top grocery chains, including Giant Eagle, Acme, Giant Food Stores, and Wegmans, offer E-ZPass Go Paks. In addition, travelers can pick up an E-ZPass Go Pak — which includes a transponder that must be registered before it is used — at all 17 PA Turnpike service plazas and Pennsylvania AAA offices. To find a location, go here.
The 2021 toll schedule is available here.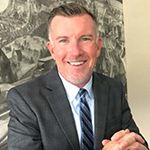 PTC CEO Mark Compton Leads Industry Group
PTC CEO Mark Compton has been elected 2021 president of the International Bridge, Tunnel & Turnpike Association (IBTTA), a worldwide association that represents owners and operators of toll facilities and their business partners. Compton was elected president by IBTTA's membership during their 2020 Virtual Annual Meeting & Exhibition, which brought together more than 1,000 transportation leaders from around the world.
"I'm excited for the chance to lead IBTTA and to learn more about best practices in our industry that can help the PTC better serve our customers," Compton said. "IBTTA has proven to be a great resource for the PTC team as we adapt to the changes sweeping our industry, from the way that we collect tolls to learning best practices in how we interact with customers and business partners."
He has selected "Leading Through Disruption" as the 2021 theme for the association. Compton's priorities at IBTTA, in part, mirror efforts at the PTC to engage young professionals and improve diversity, social and racial inclusion initiatives across the organization. To learn more about Compton's IBTTA priorities for 2021, please click here. To learn more about IBTTA, please click here.
Traffic and Revenue Update
The charts below show a week-by-week rundown of the traffic and revenue numbers from March 2020 to Jan. 23, 2021.