A Note From Our Chair
Yassmin Gramian, PA Turnpike Commission Chair and Penndot Secretary
As 2020 ends, I'd like to take this opportunity to thank our customers, business partners and the teams of dedicated public servants at the PA Turnpike and our colleagues at PennDOT. To say that this has been a difficult year is an understatement. The COVID-19 pandemic continues to wreak havoc across our state and nation. We are in the midst of a recession that has forced the closure of millions of businesses and unprecedented spikes in unemployment. Every corner of our state and every family has been impacted in one way or another by this crisis.
Still, as Chair of the PA Turnpike Commission and Secretary of PennDOT, I am reminded once again of just how grateful I am to have the opportunity to be in public service. I have witnessed the incredible resilience and dedication of the professionals at both agencies throughout COVID-19 and the upheaval it has caused. We owe the entire staff at both agencies our thanks as, across every department, our people have stepped up time and time again to make sure customers, colleagues, and business partners are as safe as possible.
At the PA Turnpike, we were able to maintain our 24/7 safety presence throughout our system. Our maintenance staff, along with the State Farm Safety Patrol and our partners at PA State Police Troop T, worked together to ensure safe travel. We transitioned from a hybrid toll collection system that comprised both cash and electronic payments to an All-Electronic Tolling system, which was absolutely essential for both employee and customer health and safety.
Our customer assistance center barely missed a beat as it transitioned to working remotely, a move that was made possible and seamless with the support of our IT staff. The pandemic has also wreaked havoc on our finances as traffic and revenue suffered the greatest percentage decline since World War II. While we made appropriate cuts, we did not sacrifice customer safety.
Our customers and business partners have shown remarkable support for our workers throughout this crisis. Given all the changes, and the speed at which we were making them, we were asking a lot from our partners. It is important to note that we rely on you as much as you rely on our team to help ensure safe travel across the Turnpike.
With E-ZPass now representing 86 percent of transactions across the PA Turnpike, paperless transactions have become commonplace. But, 20 years ago, when the PA Turnpike introduced E-ZPass to the state, it was a revolutionary step, so we are looking back to mark that anniversary. We are also reminding motorists of our new 2021 toll rates, which were approved in July. Finally, we are sharing our latest Traffic and Revenue report. The pandemic persists, but we are making our way back.
Thank you again for taking the time to read The Road Ahead. Please be safe this holiday season. Mask up. Wash your hands. Practice social distancing and, as always, please drive safely.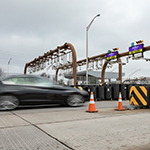 A Reminder Regarding 2021 Toll Rates
The PA Turnpike's 2021 toll rates take effect Jan. 3. In July, Commissioners approved a six percent increase for all E-ZPass rates systemwide and for PA Turnpike Toll By Plate rates that had been established before the June 2 conversion to All-Electronic Tolling (AET) at these locations:
Beaver Valley Expressway (I-376)
Delaware River Bridge (New Jersey border)
Gateway Toll Plaza (Ohio border)
Greensburg Bypass (PA Turnpike 66)
Keyser Avenue and Clarks Summit Tolls (Northeastern Extension)
Findlay Connector (PA Turnpike 576)
This and previous annual rate increases are primarily driven by the PA Turnpike's annual transit payments to PennDOT as mandated by Acts 44 and 89. Since 2007, the Commission has transferred almost $7 billion in funding to PennDOT.
The PA Turnpike Commission in July also approved new Toll By Plate rates at Toll Points converted to AET in June. These new rates, which also take effect Jan. 3, include an average 45 percent increase over the 2020 cash rate for Toll By Plate motorists to reflect the costs of collections for this tolling method. The new rate will not be applied at the previously mentioned toll facilities converted before 2020.
CEO Mark Compton reminded all customers that the PA Turnpike no longer accepts cash or credit cards on the system after permanently converting to AET collection. E-ZPass is the most affordable way to travel on the Turnpike. In 2021, E‑ZPass users will save nearly 60 percent on PA Turnpike tolls compared to those paying via Toll By Plate.
Click here for more information on the Toll By Plate program.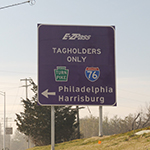 E-ZPass Marks 20th Anniversary in Pennsylvania
20 years ago this month, the PA Turnpike introduced E-ZPass as part of a phased rollout of a toll collection system that continues to pay dividends for our customers and the agency.
In 2000, E-ZPass was available for passenger vehicles at all interchanges from Harrisburg West to the Lehigh Valley, and 30,000 customers had enrolled in the program before it was turned on. Today, 86 percent of the Commission's customers are enrolled in E-ZPass and our entire system is cashless.
"We are not the same PA Turnpike that we were in 2000, obviously," Turnpike CEO Mark Compton said. "We're delivering safe and uninterrupted travel for close to 500,000 customers daily and, across our system, most of our customers, including commercial vehicles, are enrolled in E-ZPass. It has proven to be safer and much more convenient. And E-ZPass is the most affordable way to travel our system, so we encourage all customers to enroll in the program."
Travelers can pick up an E-ZPass Go Pak — which includes a transponder that must be registered before it is used — at all 17 PA Turnpike service plazas and Pennsylvania AAA offices. In addition, most of PA's top grocery chains, including Giant Eagle, Acme, Giant Food Stores and Wegmans, offer E-ZPass Go Paks. To find a location nearby, visit E-ZPass.
Traffic and Revenue Report Shows Continued Improvement
As songs of the season suggest, there is no place like home for the holidays. This year, however, with travel greatly restricted due to the pandemic, the PA Turnpike does not anticipate much of an uptick in traffic.
We do, however, thank all of our roadway team who will be working 24/7 so that those who must travel get safely to their destination.