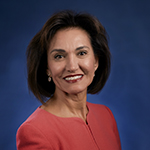 A Note From Our Chair
Welcome to our spring edition of The Road Ahead, which brings exciting news about a significant project in Montgomery County. Engineering design of a $60 million interchange to link the PA Turnpike and Lafayette Street in Norristown is moving ahead now that the PTC has largely been released from a 2007 state mandate to provide $450 million annually to fund transit operations. This progress is welcome news for a facility that expected to be built beginning in early 2025.
We have seen a concerning trend nationally with higher speeds and increased distraction. As the weather warms, please remember that highway workers will be out improving our highways. We all should make every effort to keep workers safe, so please follow all traffic signs and pay special attention as you travel through construction zones and cone patterns. The PA Turnpike now utilizes Automated Work Zone Speed Enforcement (AWZSE) to improve work zone safety for workers and motorists. We have also updated our Ramp Up For Spring webpage, which provides safety tips and tools to help you prepare for your trip.
I am especially pleased to share a report on our own Tanya Hughes, who is the PA Turnpike's first woman assistant foreman. Congratulations to Tanya for her promotion, which is yet another sign that women are continuing to make progress in our field!
We continue to rebound from the pandemic, and I am pleased to provide positive updates on traffic and revenue.
To set the record straight, we're providing a snapshot of PA Turnpike toll rates compared to rates of toll agencies around the country. Fact is that our per-mile rates are below the national median when compared with peer agencies. This is a key distinction, given that since 2009 our yearly toll increases have been required to finance the Commission's annual payments to the commonwealth — totaling $7.9 billion to date — for transit operations statewide.
Finally, the Commission is testing a new radio system that will dramatically improve our communications across the entire agency and with the Pennsylvania State Police. The new system will improve safety for our customers.

Thank you for taking time to look over The Road Ahead.
LAFAYETTE STREET INTERCHANGE DESIGN ADVANCES
Design of the PA Turnpike's $60 million interchange to link the Turnpike (I-276) and Lafayette Street in Montgomery County is moving forward. The PA Turnpike will host a virtual public meeting for the community to learn more about the Lafayette Street Interchange from 6 p.m. to 8 p.m. on April 13.
The new Lafayette Street Interchange will provide motorists in southern Montgomery County easier access to the PA Turnpike (I-276) and adjacent counties, as well as regional employment centers, helping spur economic growth in and around Norristown.
The interchange has long been a priority because of the benefits of improved safety and mobility for passenger and commercial traffic in the corridor. The new link will also reduce entry/exit traffic at the adjoining Valley Forge Interchange (No. 326) and the Norristown Interchange (No. 333).
The interchange is part of Montgomery County's Corridor Reinvestment Project and was cited in the Southeast PA Partnership for Mobility report as a project of significance that will help ease congestion and create economic development opportunities across the county and region.
TURNPIKE'S TANYA HUGHES BREAKING NEW GROUND
As the PA Turnpike's first female assistant foreman, Tanya Hughes earned her stripes by operating the same heavy equipment and driving the same giant plow trucks through raging snowstorms across the PA Turnpike.
"It's tough as a female," she said. "But my philosophy was always 'if I want to do it, I have to prove I can do it.' And I was determined to do that."
Hughes serves as the second in command at the Wyoming Valley Maintenance Facility in the upper reaches of the Northeastern Extension. She started her career as a nurse. In 1998, she took a job with the Turnpike as an emergency rescue worker (ERW). That position was replaced by maintenance utility workers, but back then ERWs responded not only to disabled vehicles but to medical emergencies too.
As a result, Hughes found herself looking for a new line of work and a foreman recommended she earn her commercial driver's license. She not only earned her Class B license to operate dump trucks and plows, but she got her Class A license for the heavier equipment as well.
"Most of the guys I worked with were great, but for some of the guys, it was tough having a girl coming into the shed and changing the whole view of how things were," she said.
David Valvano, the Wyoming Valley foreman, said Hughes' years of hard work in different fields within the Turnpike, her eagerness to learn and her willingness to take on any task led her to where she is today.
"She always strived to move upwards within the Turnpike," Valvano said. And she's earned the respect of everyone in the shed. "She's looked at and treated as an assistant foreman, not a female assistant foreman."
PA TURNPIKE TRAFFIC VOLUMES CONTINUE TO REBOUND
Traffic volumes on the PA Turnpike grew significantly for passenger vehicles compared to last fiscal year, and commercial traffic also experienced an uptick.
PA TURNPIKE TOLL RATES RANK BELOW NATIONAL AVERAGE
An analysis of toll road systems across the United States shows that the PA Turnpike's per-mile toll rates rank below the national average among domestic toll agencies for both passenger and commercial vehicles. The PA Turnpike ranked 24th out of 47 toll agencies in the survey.
Some recent media statements have exaggerated PA Turnpike per-mile rates.
The Commission has been compelled to raise tolls every year since 2009 because of Act 44 of 2007, which mandates our agency transfer $450 million annually to PennDOT for transit operations. As a result of this law, the PTC has transferred more than $7.9 billion to PennDOT in the last 14 years.
Effective this year, the annual payments are reduced to $50 million. Despite this reduction, projections show that the PTC must still raise tolls by an average of nearly 5 percent annually from 2022-27. Tolls are projected to then increase by 3 percent annually starting in 2028.
U.S. Per-Mile Toll Rates 2021*
PA TURNPIKE IMPLEMENTING NEW RADIO SYSTEM
Testing is underway for a new, PA Turnpike-wide communications system that will replace an outdated VHF radio system used by traffic, engineering and operations, maintenance, facilities, construction, and interchange operations. The new FirstNet Push to Talk application will bring Turnpike communications into the 21st Century.
"The current VHF radio system is decades-old technology and does not provide adequate coverage to meet our needs with new Federal Communication Commission's mandates to decrease power and coverage areas," said Chief Technology Officer Bob Taylor.
"Additionally, the current VHF radio system will not meet the PA State Police's new requirement for secure, encrypted communication associated with their recent transition to a P25 radio system."
Testing of the new Turnpike system that started in 2021 found that the network provided 98% roadway coverage across the Turnpike system, exceeding the current communication system's coverage.
The goal is to phase in this system over several months starting this summer. By the end of 2023, all departments that use radios should have the new FirstNet PTT devices.
"One of the core values of the PA Turnpike is 'Teamwork Delivers,' and moving this communication system forward is proof that we succeed when we work together," said Chief Operating Officer Craig Shuey. "We want to maintain the simplicity of our current system while also considering some of the new capabilities the FirstNet has or will have in the future."