A Note From Our Chair
As we transition out of the snowy months, I'd like to reflect on the challenging season we just experienced. Winter is always crunch time for the PA Turnpike Commission (PTC) – this year more so as our maintenance and response crews grappled with back-to-back weather events statewide. With winter behind us, we are moving forward with other tasks. The PTC, working with PennDOT and other stakeholders, has taken a more visible and vocal leadership role in confronting the significant transportation-funding challenges facing our state.
On the weather front, I am proud of the job our crews did in keeping our system safe. This year, the PTC and PennDOT, in conjunction with the Pennsylvania Emergency Management Agency, instituted proactive commercial vehicle bans during storms forecasted to be severe. This practice allows trucking companies to plan more accurately. Last-minute truck bans not only are impossible to communicate to trucks already on the system, but they leave banned trucks stuck at chokepoints at the entry of our system. We understand bans of any sort are hard for trucking companies, and some commercial customers raised concerns about imposing restrictions or bans. I have asked our team to make sure our protocols make sense – and to put safety first for all customers.
On the funding front, our commonwealth is facing stiff challenges in the coming months that jeopardize our ability to continue funding our transportation network at the appropriate level. I have been working with our CEO, Mark Compton, and transit agencies across the state to engage stakeholders in a bid to address the state's looming transportation-funding crisis. The PTC provides PennDOT with $450 million annually in toll-backed funding, which has resulted in mounting debt and higher toll rates. In addition, we have reduced our capital plan by 13 percent. We have joined the Southeastern Pennsylvania Transportation Authority (SEPTA) and the Port Authority of Allegheny County (PAAC) to create regional partnerships to identify needs and potential funding options to help the PTC stabilize future toll rate increases. This is a critical initiative, and I hope all of our stakeholders can play some role in identifying solutions.
Our efforts to be more innovative and safety focused continue. You will see in this edition that the PTC is participating in a study of hyperloop technology. And we recently hosted an event to acknowledge National Work Zone Awareness Week, a priority of the PTC and PennDOT.
Finally, please enjoy the latest installment of our Art Sparks projects at the Cumberland Valley and New Stanton Turnpike Service Plazas. It is a pleasure to work on projects that showcase young artists and lift our customers' spirits.
Obviously, we've had a busy start to 2019. I look forward to continuing our efforts to provide safe, reliable travel across our system. Please do not hesitate to reach out to our offices with feedback on this newsletter or suggestions about articles we might provide in future months.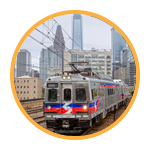 PTC and Partners Lead Transportation-Funding Discussion
The PTC has long served as a partner in helping to expand and fund the state's ground transportation network — a role that expanded with the passage of Act 44 in 2007. Under Act 44, the PTC is required to provide PennDOT with $450 million a year, which primarily provides capital budget support for transit authorities.
Under this statute, the PA Turnpike has delivered more than $6 billion to PennDOT in the last decade. These payments have had a significant impact on our customers and our agency overall, and they are scheduled to be reduced to $50 million in 2022. In 2018, we joined forces with SEPTA and the PAAC to work with regional leaders to map strategies to offer funding-solution options for transit and to stabilize future toll increases.
The Southeast Partnership, launched by SEPTA and the PTC in coordination with PennDOT, has developed a vision to meet growing mobility challenges and to address the looming impacts of changes coming to Act 44 public transportation funding. The Partnership issued a report that identifies a range of local and state options that can generate the needed revenues. The PTC and PAAC are conducting a similar study in the southwest.
For more information about the Southeast Partnership for Mobility and the report, please click here.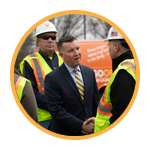 PTC Hosts Event to Kick Off Work Zone Awareness Week
The PTC, the Associated Pennsylvania Constructors (APC) and Flagger Force Traffic Control Services® hosted an event April 2 to kick off National Work Zone Awareness Week (NWZAW). The event, held at PTC headquarters, highlighted the importance of work-zone safety across the commonwealth, shedding light on the increasing effects of distracted driving on work zone employees and motorists.
Work zone employees and their loved ones shared personal stories of close calls and loss during the event. We all need to be reminded of safety measures we can take for those working feet away from live traffic.
PA Turnpike CEO Mark Compton reminded drivers of a new law that will take effect this year allowing the PTC and PennDOT to conduct speed enforcement operations inside work zones and maintenance (cone) patterns using automated speed detection technology. He said the system will generate speeding violations to the registered owners of offending vehicles.
"Violation notices will be mailed to the registered owner if the vehicle is traveling 11 mph or more over the posted speed limit in a work zone," Compton said. "The first violation will be a written warning, the second will be a $75 fine, and the third and all subsequent violations will be a $150 fine."
For information about NWZAW and to take the PTC safety pledge, click here.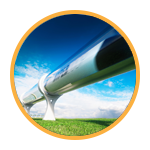 PTC Helping to Lead Hyperloop Study
In 2018, the Pennsylvania House of Representatives passed House Resolution 1057, authorizing a study for a hyperloop system that developers say can transport passengers and freight at more than 700 mph in pods that move through low-pressure tubes.
The PTC and PennDOT approved a contract for consultant AECOM to review the technology and potential for a hyperloop system that would extend across the state along a route from Pittsburgh to Harrisburg to Philadelphia, with a possible second route following the Northeastern Extension. The study will examine potential impacts to the PA Turnpike's operation and will consider regulatory or environmental concerns and geographical challenges. There are no commercial hyperloop systems in operation in the United States, but there are several test sites overseas and in the Mojave Desert outside Las Vegas.
For an article with more information, please click here.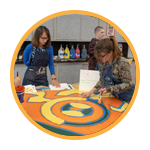 Art Sparks Projects Lift Young Artists, Customers
The PTC is pleased to continue partnering with the Pennsylvania Council on the Arts (PCA) on the Art Sparks program, which provides students with an opportunity to design artwork to be displayed in service plazas across the PA Turnpike. In recent months, two more locations have joined the program, bringing the total to six service plazas.
Cumberland Valley Service Plaza: CEO Mark Compton joined PCA Executive Director Karl Blischke and students from Big Spring Middle School to present the art of barn quilts in this plaza. The four-foot-by-four-foot quilt murals use unique shapes and colors to represent rural south central PA.
New Stanton Service Plaza: The PTC and PCA joined students from Hempfield Area High School to unveil a work titled "PA COMMONwealth THREADS." Hempfield art students designed and created six colorful pieces of silk, each depicting imagery emblematic of the region.
For more information, click here.