A Note From Our Chair
By just about any measure, the PA Turnpike is a sprawling enterprise that moves an average of 550,000 vehicles a day and generates more than $1 billion in revenue. This year alone, we will invest nearly $500 million in construction projects on our system while providing $450 million in funds for transit systems statewide.
Despite the many moving parts, every decision we make starts and ends with one overarching priority – ensuring the safety of our employees and our customers. This mandate was made even more compelling by the tragic death of Robert Gensimore, a PennDOT foreman who was killed earlier this year while setting up flares to warn motorists about an accident on Interstate 99 near Altoona.
Robert, who was 45, worked for PennDOT but just as easily could have been a PA Turnpike worker. He could have been one of the hundreds of responders who answer the call when there are crashes on our system. Robert was, in fact, a volunteer firefighter.
I am confident that the PA Turnpike and PennDOT are doing everything possible to protect our employees. But we need your help. This edition of The Road Ahead comes as the winter season is nearing an end and our construction season kicks into gear. That means more workers will be in harm's way. Please, slow down, put your phone down, and heed all construction-zone signs. Slow down and move over when you see an accident and follow the guidance of State Police and other responders.
We are sharing updates on three major construction projects in this edition. The Commission recently started a $225 million reconstruction and widening project of seven miles of the Northeastern Extension. The Commission has also announced the selection of a construction manager for the Mon/Fayette Expressway project near Pittsburgh. In addition, the PA Turnpike's I-95 connector in Bucks County will, after much anticipation, become a reality this year.
In our efforts to improve customer service, I am happy to share an important update on the PA Turnpike's next steps to implement cashless tolling and some good news for E-ZPass customers who rely on the Waze app. The app has been updated to make sure E-ZPass customers get suitable directions to E-ZPass-only interchanges and express lanes. Finally, we have a report on our connected-truck pilot program that provides in-cab safety alerts to commercial drivers. These alerts have helped reduce truck speeds on curves and ramps across our system — and have made all travelers safer. Thank you for your time and, please, drive safely.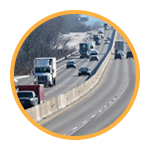 Major Improvement Project Begins on Northeastern Extension
The PA Turnpike began construction in February for the total reconstruction and widening of a seven-mile section of the Northeastern Extension (Interstate 476) between Lansdale, Exit 31, and Quakertown, Exit 44, in Montgomery County.
"Total roadway reconstruction is a massive undertaking that involves removing the old four-lane roadway and sub-base and replacing it with an all new, six-lane roadway," said PA Turnpike Chief Engineer Brad Heigel. "Once the reconstruction and widening is completed, it will improve safety and enhance mobility for our customers who travel this stretch of the Northeastern Extension."
The new six-lane highway will feature full, 12-foot shoulders to the left and right of the travel lanes.
Other components to be replaced include concrete barriers, guide rail, and right-of-way fencing. Construction will include sound barriers, retention walls for support of excavation, storm-water management basins, and drainage systems. The contractor will also replace four bridges that carry PA Turnpike traffic over local roads and creeks. These structures will be removed and replaced in stages as the PA Turnpike is widened between mileposts A31.3 and A38.1.
Richard E. Pierson Construction Co. Inc. of Pilesgrove, N.J., was awarded the $225 million contract by the PA Turnpike last November. Hill International of Philadelphia will be providing construction-management services on the project, which crosses through Lower Salford, Franconia and Salford townships.
This project is to be completed by late 2020 with the opening of three lanes in each direction. Miscellaneous roadway work may continue through 2021.
The section of I-476 originally opened in 1957; today it carries 51,000 vehicles a day.
For more information and updates about this project, visit patpconstruction.com/mpA31toA38/.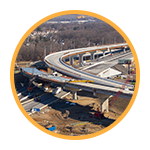 PA Turnpike to Complete Essential I-95 Link this Year
Decades in the making, the PA Turnpike (Interstate 276) will finally connect to Interstate 95 in Bucks County this year, creating a seamless link for I-95 drivers to travel from Maine to Florida. Slated to be completed in late summer, the new connection will allow I-95 to be routed along the PA Turnpike, across the Delaware River Bridge, east to the N.J. Turnpike connector, then north along the NJ Turnpike where I-95 exists today.
This new I-95 interchange and rerouting necessitates the re-designation — or changing of some interstate and exit numbers — on a portion of I-95 in Pennsylvania and New Jersey: Existing I-95, from north of the PA Turnpike, over the Scudder Falls Bridge into New Jersey to its terminus at U.S. Route 1, will be re-designated as I-295 (east/west in PA and north/south in NJ).
In addition to the opening of the new PA Turnpike/I-95 Interchange, 11 New Jersey interchanges and six Pennsylvania interchanges will be renumbered by each agency. Some of the signing changes associated with the conversion have been installed but will remain covered until just before the official re-designation implementation occurs.
Highway guide signs, informational signs, and mile markers also are being modified and, in some cases, replaced to reflect the re-designation of the interstates and exit numbers. To avoid confusion, the former exit numbers will be displayed along with the new numbers for a while.
Concurrent with I-95 re-designated, the newly constructed interchange flyovers — essentially land bridges that form the new on/off ramps — are expected to be completed and opened to traffic. These flyovers, which comprise two of the new interchange's movements, will essentially complete Stage 1 of the PA Turnpike/I-95 Interchange project, which spans nine miles along the PA Turnpike from the Bensalem Interchange (#351) to the Delaware River Bridge.
Once the remainder of the project (Stages 2 and 3) is complete, the fully directional interchange movements (eight in total) will improve travel times for motorists using local roads, as well as create easier interstate travel in the Mid-Atlantic Region.
To learn more about the PA Turnpike's I-95 project, visit https://www.patpconstruction.com/paturnpikei95/.
For additional information on the re-designation and its timing, visit http://i95link.com/.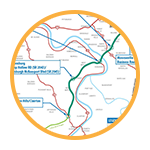 PA Turnpike Picks Construction Manager for Mon/Fayette Stretch
The PA Turnpike has taken a crucial step in the development of the next Mon/Fayette Expressway project south of Pittsburgh. It recently awarded a $20 million construction-management contract to Johnson, Mirmiran & Thompson Inc. (JMT) for an eight-mile Mon/Fayette Expressway section from PA Route 51 in Jefferson Hills to PA Route 837 in Duquesne. In this role, JMT will oversee the project's construction and help with planning and design through completion, managing project time, cost, and quality on behalf of the PA Turnpike.
The estimated $900 million Jefferson Hills to Duquesne project is the southern portion of the larger, 14-mile project that will eventually extend the Mon/Fayette Expressway (PA Turnpike 43) to Interstate 376 near Monroeville.
"This part of the Mon/Fayette Expressway will focus on communities south of the Monongahela River, which means people living in Jefferson Hills, West Mifflin, Dravosburg, the City of Duquesne and the City of Clairton will see the first signs of progress," said Special Project Manager Matt Burd of the PA Turnpike's engineering department. "Once right-of-way acquisitions are settled, construction work would likely begin on some sections by mid-2021 with completion by late 2026."
The existing Mon/Fayette Expressway system stretches 60 miles between Morgantown, W.Va. and Jefferson Hills, representing a total infrastructure investment of $1.8 billion. The 14-mile Mon/Fayette section from Jefferson Hills to Monroeville is more expensive than all opened sections combined, with an estimated cost of around $2 billion.
Responsibility for the design and construction of the Mon/Fayette Expressway was assigned to the PA Turnpike by the state legislature in the mid-1980s. Act 61 of 1985 delegated several highway-development projects to the PA Turnpike — including the Southern Beltway west of Pittsburgh — for completion and tolling. The Act-61 projects are funded with the help of state fuel-tax revenues, but operated and maintained without taxes by the PA Turnpike.
Affected property owners and anyone else interested will have the opportunity to see the expressway project plans and ask questions during one of three, identical public-plans display open houses which will be held April 3, 4, and 5 at the Georgetown Centre in Pittsburgh from 6 p.m. to 8 p.m.
JMT, headquartered in Hunt Valley Md., has five Pennsylvania offices including Pittsburgh. The firm provides a full range of multi-disciplined engineering services to public agencies and private clients throughout the United States.
In January 2016, the PA Turnpike restarted design of this section of the expressway, which was put on hold in 2009. Seven engineering-design firms, under contract when work stopped in 2009, proceeded with roadway design. The seven firms are: AECOM, L.R. Kimball, Louis Berger, McCormick Taylor Inc., Modjeski & Masters Inc., Pennoni Associates Inc., and The EADS Group. HDR Inc. is design manager, coordinating engineering work on the seven sections. Two other firms, selected in late 2015, are McCormick Taylor Inc. for environmental work and CDM Smith Inc. for traffic and revenue analysis.
To learn more about this section of the Mon/Fayette Expressway, visit https://www.patpconstruction.com/monfaysb/default.aspx.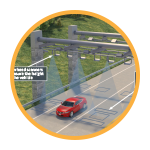 'Cashless' Tolling Slated to Expand on PA Turnpike
The necessary technology and equipment installations are on track for the Cashless Tolling pilot projects on the Findlay Connector section of the Southern Beltway (PA Turnpike 576) in Washington and Allegheny counties and at the Clarks Summit and Keyser Avenue Toll Points in Lackawanna County on the Northeastern Extension (Interstate 476). A state-of-the art cashless tolling system will be implemented at those locations on April 29.
"Cashless" means there will be no coin baskets or toll collectors along the roadway; cash will no longer be accepted. Motorists with E-ZPass will not notice a difference and will continue to use the process with which they are familiar. For motorists who do not have E-ZPass, an image of their license plate is captured as they travel through a cashless facility. Using the address on file with PennDOT, a toll bill is mailed to the registered owner of the vehicle — a cashless procedure known as "PATurnpike Toll By Plate."
The benefits of cashless-tolling facilities include:
enhanced Toll Point safety — no swerving to find the correct lane
reduced congestion and travel times
reduced footprint, emissions, noise, and light
reduced cost and disruption to build new interchanges
reduced long-term capital and operating costs
Customers who use Keyser Avenue and Clarks Summit will see little physical change at the Toll Points. New All-Electronic Tolling equipment is being installed at existing facilities — something referred to as "AET In Place." Customers who use the Findlay Connector will no longer pay at ramp Toll Points, which will be removed. Beginning April 29, they will pay electronically at a new location on the Findlay Connector mainline — an "open-road" Toll Point at milepost 2.5 where equipment is suspended from an overhead gantry. Findlay Connector trips which are now tolled between Exits 1-2 and Exits 4-6 will become free after conversion.
For more information on the project, including a video about how cashless tolling works, visit www.nocashzone.com.
Vehicle Classification Upgrade
As part of the upgrades on the Findlay Connector and at Clarks Summit and Keyser Avenue, the PA Turnpike will replace its axle and weight-based vehicle classification system with a new axle and height-based system. This innovative system — which is used on the New York State Thruway and the Ohio Turnpike, among other Toll Points — offers improved accuracy, efficiency, and predictability.
The axle/height system will detect the number of axles and height between the first two axles to assess the toll; vehicles under 7.5 feet are considered low profile ("L" designation) while those over 7.5 feet are considered high profile ("H" designation).
Along with the classification changes, drivers at these locations will see new toll rates beginning April 29. The new rates reflect an increase that was implemented on most other sections of the PA Turnpike in January (rates did not increase at Clarks, Keyser and Findlay at that time). The new rates are available at the PA Turnpike's online toll calculator.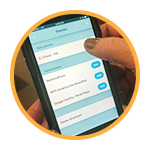 Waze App Launches Update for E-ZPass Customers
The PA Turnpike is pleased to announce a recent update to the Waze navigation app that identifies designated E-ZPass interchanges and E-ZPass Express lanes along the PA Turnpike and other Toll Points nationwide.
E-ZPass customers who currently use Waze will need to manually update their app settings to indicate they are an E-ZPass customer.
Updating the settings in your Waze app will ensure you receive the best directions as an E-ZPass customer. Unless you update your settings to indicate you are an E-ZPass customer, the Waze app will direct you away from E-ZPass Only ramps and E-ZPass Express Lanes.
To update your settings, follow these instructions:
Open the Waze app on your device and go to settings.
Click on "Navigation" in the "Advanced settings" section.
Click on "Add toll/HOV passes."
Select "E-ZPass PA."
For more information about E-ZPass, please click here.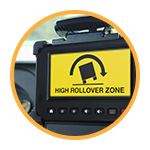 Drivewyze Trucker Alerts Improve Safe Driving
A PA Turnpike connected-truck pilot program that provides in-cab safety alerts to commercial truckers has helped reduce truck speeds and boost traveler safety on curves and ramps on the PA Turnpike System. The new safety alert system reduces truck rollovers at high-risk locations.
In the first six months of a program — operated in partnership with Drivewyze Inc. of Dallas TX — the PA Turnpike delivered more than 70,000 truck driver-safety notifications. Last September, truckers who received in-cab notifications reduced their speed seven percent more than those who did not receive alerts.
"Results of the pilot program show the benefits of technology in changing driver habits and improving traveler safety," said PA Turnpike Chair Leslie Richards. "This vehicle-to-infrastructure technology is helping us improve safety by delivering timely alerts when they can alter driving behaviors — and at no cost to toll-payers."
Drivewyze began testing in-cab driver-safety notifications in 2015. That initial proof of concept has evolved into a large-scale pilot program with more than 100 sites in 19 states, including 32 curves and ramps on the PA Turnpike.
The Drivewyze platform operates on standard in-cab telematics equipment managed by fleets and does not require the driver to download or interact with the application. The notifications are fully automated and provide both visual and audible notices to drivers. As drivers approach rollover-risk areas, the Drivewyze application issues an audible tone and displays a standard warning symbol on the in-cab display.
For more information, please visit https://drivewyze.com/.