Turnpikers Help Rescue Missing Dog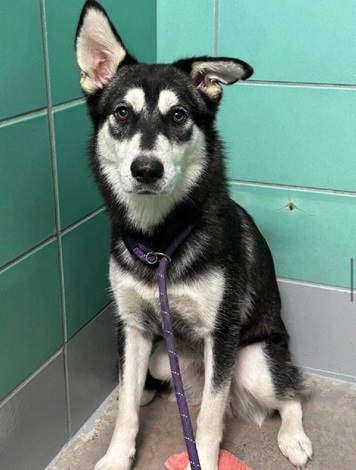 Cola had quite the amazing journey.
From Texas to Mechanicsburg and then to the PA Turnpike's Central Administration Building near Middletown, she's very lucky to have been rescued with a little help from the Traffic Operations Center.
"I've been a volunteer firefighter for a lot of years now, so I'm programed to help whenever I can," said Operations Center Supervisor Gary Dressler, who was part of the team that jumped in to save the young husky. "It's just what we do."
It all started a little over a month ago when Cola was a stray in Texas, running with a pack of dogs. At the same time, Mechanicsburg Police Chief Margaret Myers was looking for a new, furry friend. She found St. Mutt's Rescue in Texas and instantly fell in love when she saw Cola's photo.
But after running free for the early part of her life, then enduring a 21-hour ride in a crate, being integrated into a new home was not an easy transition for the pup. Myers only had Cola for a day when she slipped out of her collar and ran away. And Cola kept on running. For 35 days.
Myers listed Cola as missing on Find Toby in PA, a volunteer organization with a dedicated social media following, who reported Cola sightings throughout Cumberland County. For more than a month, the Find Toby team would get word that Cola was spotted in Camp Hill, Lemoyne, and even running through some dangerous areas of heavy traffic. She likely crossed a railroad bridge to get into Dauphin County, volunteer Kim Bolden said.
It wasn't until Friday night that the husky showed up at the Central Administration Building – 15 miles away from Myers' home. That's where Turnpike Traffic Ops Dispatcher Jonathan Kibe spotted her playing in the grass.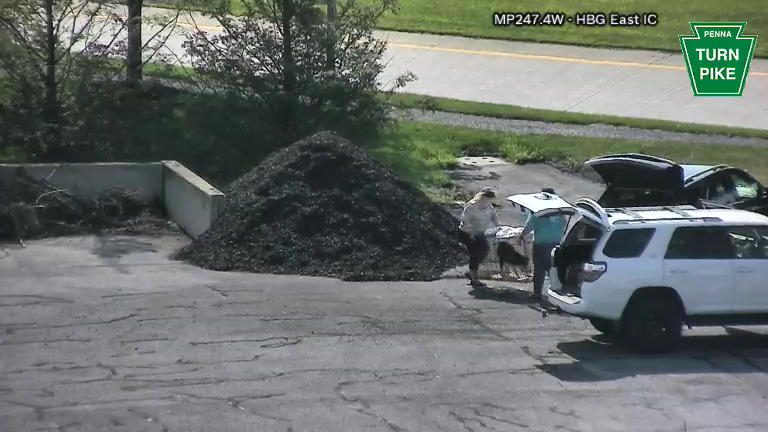 "It looked like she was having a great time," Kibe said.
Kibe, himself a dedicated dog owner, searched Find Toby, found Cola's listing, and called to alert Bolden.
Then on Saturday, Bolden and her team came to the CAB and set up cameras and some food and water (including treats from the nearby Wendy's and Taco Bell – Cola spent some time there, so why not?), trying to entice her into a crate. But, well… Cola' a runner.
Kibe signed off the night shift, but Dressler and the rest of the Ops Center team kept an eye on the cameras and called Bolden whenever they saw Cola running around. Dressler and Kibe both stopped by the Central Office, across the road from the Ops Center, during their break and after their shifts to see if they could help.
It wasn't until Sunday morning when Bolden set out more food and water and went away to watch the cameras that Cola wandered into the crate, which has a door that shut automatically behind her.
Myers is thrilled her dog is safe. Cola is staying at a kennel now, where she's being trained. The husky loves her time outside, she's eating and she's happy, especially when she's around other dogs. The kennel owner assures Myers the former stray will make a fine companion – but it's going to take some work so she doesn't run away.
"She's the perfect dog for me, but I want what's best for her," Myers said.
And at the Traffic Ops Center, it was all in a day's work.
Whether they have two legs or four legs, every customer matters," Dressler said. "We've all gone above and beyond to help our customers. It's just what we do."