Turnpike Volunteers Help Giving Garden Grow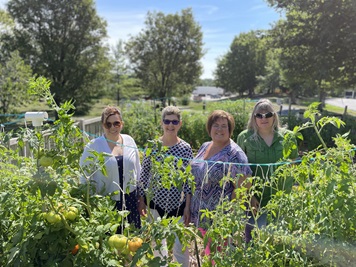 Just about every day around lunchtime – and sometimes in the evenings and even over the weekends – a group of PA Turnpike central office volunteers trade in their laptops for work gloves and head outside to get dirty.
"I grew up pretty much on a small farm and literally had my feet and hands in the dirt from the time I could crawl until I got here," Engineering Planner Pam Hess said. "Watching it growing from a tiny seed to a fruit or vegetable and then cooked into bountiful food for people – it's amazing."
Hess is talking about the PA Turnpike's Giving Garden, a plot of land outside of the Central Administration Building near Middletown.
The PTC Women's Network planted the first seeds of the Giving Garden several years ago as a fun way for Turnpikers to exercise their green thumbs for a good cause. Volunteers tend to the garden all summer long and donate the entire harvest to local food pantries.
Hess is heading up those efforts this year with coworkers Ali Sebring, Brenda Beal, Kathy Brilla and their team of volunteers, and they are all excited to see the garden come into bloom like never before – to the tune of 700 pounds harvested so far.
Anyone who has walked along the trail between the central office parking lot and Harrisburg East Interchange would have noticed the lush, green garden just bursting with vegetables. Sebring attributes the success to ideas that came from Fleet Maintenance Supervisor Von McGee and Manager of Maintenance Programs Jim Bence. McGee recommended installing a drip line, connected to a water spigot and hose, timed to water the plants periodically throughout the day, and Bence suggested placing newspaper and straw around the plants to control the weeds. And it's paid off.
"It's just been growing with God's good grace, lots of rain and sunshine," Sebring said.
Sebring, Hess and the team are all quick to point out it's been a group effort with the help of volunteers from each department, taking turns to help out.
"Many hands are making light work, and our pantries are really enjoying the fruits of our labor," Sebring said.
Click here to watch the full story on the PA Turnpike's Giving Garden.