PA Turnpike Employee's Celebrate Diwali
"We were up until 4 a.m. on the terrace of our house," Madhogarhia recalled that special celebration 20 years ago. "I still remember that night. My friends and my family were there, and we were having a blast."
This Sunday is Diwali, and Madhogarhia, who is now a Senior Technology and Innovation Specialist with the PA Turnpike, keeps the celebration going every year in her new home in Pennsylvania.
Diwali, a festival of lights that marks the end of the lunar calendar and the beginning of a new year, is a special holiday for Enterprise Development Supervisor Srikanth Chilka, too. He moved to the U.S. seven years ago and continues to celebrate and keep the wonderful tradition alive, particularly for his 6-year-old son, Yuvan.
For Chilka and Madhogarhia and the millions who celebrate the holiday around the world, it all starts a few days ahead of Diwali with a thorough house cleaning, followed by the decorating of their homes with candles, lanterns, flowers, and colorful, swirling patterns of artwork called rangoli.
"The belief is that it's welcoming to our guests, and it can bring some good luck," Chilka said.
The morning of the actual holiday, for many, starts with puja, a prayer in honor of Lakshmi, the Hindu goddess of wealth and prosperity. From there, it turns into a big feast and gathering of friends and family, Chilka said.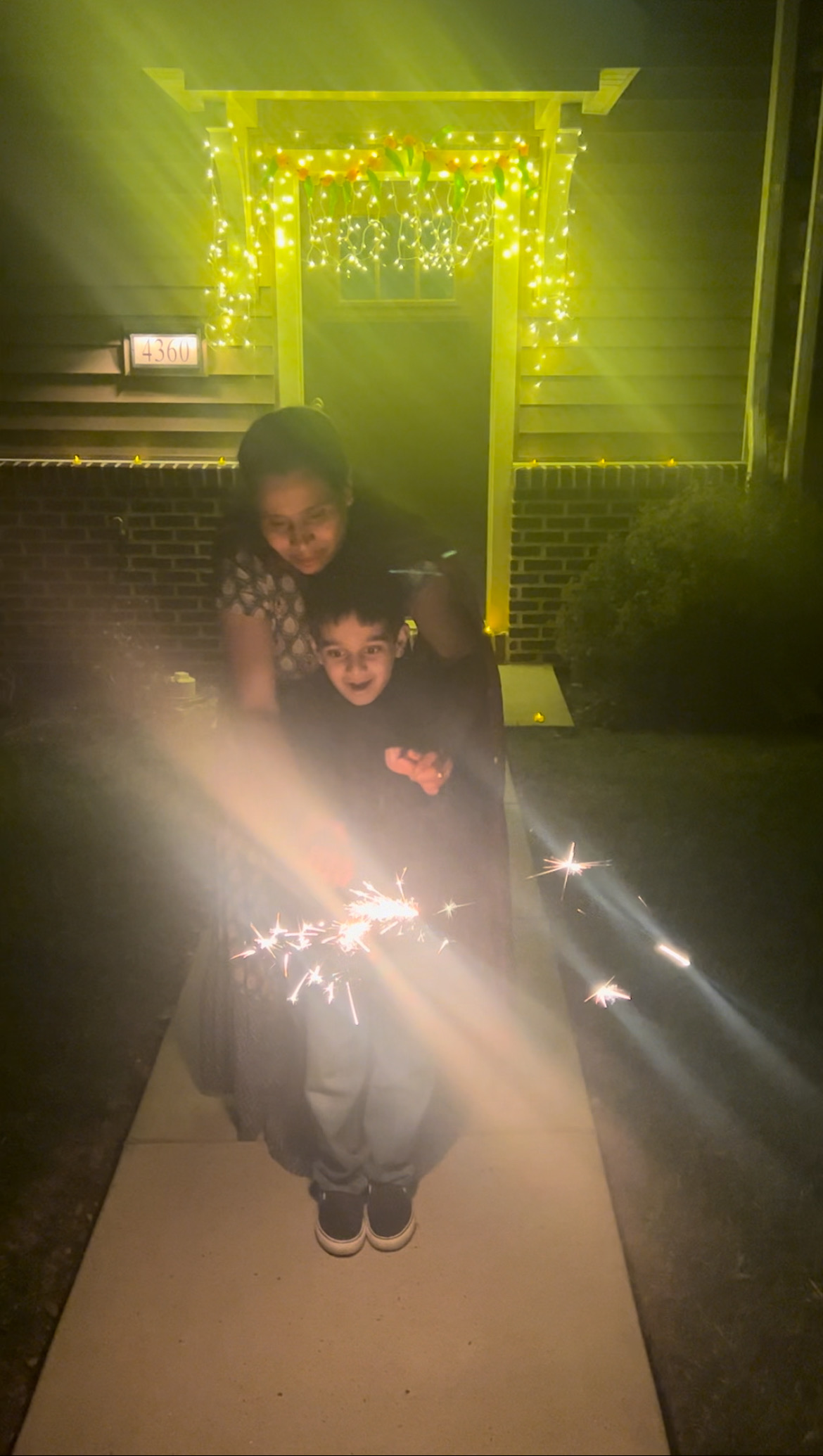 He and his family are going to a friend's home this year to celebrate and exchange gifts and, in the evening, firecrackers – his son's favorite part of the holiday.
Throughout the world, the celebrations may vary, but the theme remains the same – the triumph of light over dark, good over evil, and the hope for a prosperous and joyful new year.
For Madhogarhia, getting into that feeling of Diwali is not as easy as it was when she was living in India, where you could walk out of your front door and see many beautifully decorated homes shining brightly, reminding you at every turn that something special was happening. Her early memories are those of the joy and excitement of getting brand new clothes to wear on Diwali to see friends and family, celebrate the good times and play games late into the night. And though it's different here, she's still sure to get together with friends while passing on the tradition to her son – Krish, who is 11.
Pictured at left, Chilka's wife and son, Divya and Yuvan, celebrate a traditional Diwali with sparklers.
"My son looks forward to it. He also sees the differences between Diwali and Halloween, Thanksgiving, and Christmas," Madhogarhia said. "I want him to celebrate those but not lose my Indian tradition."
They may not be up until 4 a.m. on the roof of her home anymore, but Madhogarhia makes sure her son enjoys the family time, the celebration, the music and dancing – but all after prayers -- as she passes on the tradition of her home and heritage to the next generation.