Coffee Connections, Human Trafficking Awareness Campaign Honored with WTS Awards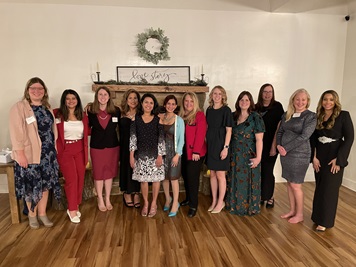 It's quite an honor to be recognized with one award from an international organization dedicated to advancing women in the transportation industry, but the PA Turnpike won two.
At the Central Pennsylvania Chapter of the Women's Transportation Seminar (WTS) Awards and Scholarship Gala March 15, the Coffee Connections program won the Rosa Parks Diversity Leadership Award, and the Human Trafficking Awareness Campaign took home the Innovative Transportation Solution Award.
Both are part of the PTC Women's Network.
"We are so honored to have our work recognized in this way by WTS. It means a great deal to our committee that the work we are so passionate about is resonating and being acknowledged by others held in high esteem in the transportation community," Chief Counsel and Human Trafficking Awareness Campaign core team leader Doreen McCall said. "It was very special coming from WTS. This is a wonderful organization, and for them to honor us in this way is quite exceptional."
McCall was instrumental in launching and running the Human Trafficking Awareness Campaign, as was Technology and Information Manager Tami Anderson, who said she was just as thrilled to be recognized by her peers for such a worthy cause.
"The WTS organization has many guiding principles with an overarching goal that aims to empower women," Anderson said. WTS allows its members to collaborate, to learn from each other and to showcase their talents, and, "to be recognized in two areas and not just one is a remarkable achievement."
The Human Trafficking Awareness Campaign is far reaching and has made quite an impact over the last few years. Not only have Turnpike employees been trained to call *11 if they see signs of potential human trafficking, but the Women's Network has spread the word to the Turnpike's customers, as well, with informational mirror clings in service-plaza restrooms and road signs at pull-off areas instructing them on how to report this suspected human trafficking.
They have raised awareness through podcasts and partnerships with organizations like the YWCA Greater Harrisburg, and a recent giving-box campaign saw Turnpikers donating hundreds of needed items to the survivors of human trafficking.
"I was blown away," Senior Human Resources Specialist and Women's Network coordinator Karen Muro said about receiving the awards. "It's been an incredible journey. We're reaching so many people already, and it's just the beginning."
The gala was a special night for Muro, who played a major role in both the Human Trafficking Awareness Campaign and Coffee Connections, which took the second award.
Coffee Connections runs every other Wednesday, drawing between 50 and 150 attendees for a virtual program that does not shy away from difficult topics.
In her acceptance speech, Muro asked those in the crowd to raise their hands if, in the last three years, they've dealt with caring for elderly parents, the loss of a loved one, depression, grief, the loss of a job, a disability, or suddenly home-schooling students, and most raised their hands.
These are among the many topics Coffee Connections has covered – topics many contend with daily, sometimes before they even arrive at work, highlighting the importance of addressing them through such a program.
"When I think about Coffee Connections, our topics are real, they're raw and they're in the moment," Muro said. "I continue to hear from colleagues at other organizations who say they wish their organization would do something like this for their employees."
About 250 people from the transportation industry attended the event, which was the 25th gala held by the Central PA Chapter.