Building America's First Superhighway: A Grandfather's Work 82 Years Later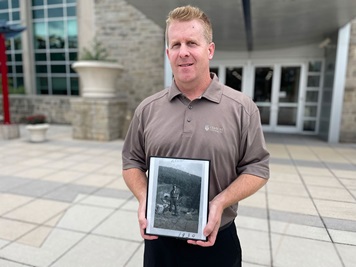 While the PA Turnpike was still just a dream, Don Steele went to work, hauling rocks and debris, on what would become America's First Superhighway.
It was laborious - and even dangerous at times - but, hey, it was work. And that was hard to come by in the late days of the Great Depression.
Eight decades later, the Steele name remains an integral part of the Turnpike. His grandson, also named Don Steele, works as a Facilities and Special Projects Manager for the PA Turnpike.
"My grandfather was a general laborer, and as we were building the Blue Mountain and Kittatinny tunnels, he helped dig out the original section the railroad had abandoned, retrofitting them for our needs when the Turnpike opened in 1940," Steele said.
The PA Turnpike's 82nd anniversary was in October, but it's always a good time to look back at the history of this dream highway. Built over the course of 23 months from Carlisle to Irwin, the PA Turnpike was a four-lane trip across the state and through the mountains - literally - cutting the journey nearly in half.
When Steele looks back at the history of the Turnpike, he also looks back at his family's connection to those early days.
The older Don Steele was born in 1919 and grew up in Dallas, Pa. He had a rough start in life with his own father dying in a workplace accident, soon followed by The Great Depression. Those were lean years that hit northeastern Pennsylvania particularly hard.
But as the Depression waned on, some good news came from another part of the state. A major construction project was about to be begin – one that would change automotive transportation forever. And they had jobs.
As part of a special program to bring in laborers on this massive project, a 20-year-old Don Steele left home to work on the tunnels, which had been partially constructed as part of the abandoned South Pennsylvania Railroad project.
"He was a big, strong guy carrying debris out of there as they refined the tunnels to fit our needs," Steele said about his grandfather.
But his grandfather only did that work for about a year, quitting after a big piece of rock tumbled from the top of the tunnel and just missed him.
"He determined that was going to be his last day working on that project," Steele said. Steele's grandfather then joined the U.S. Navy and was soon fighting in World War II as a tail gunner.
After he came home from the war, he raised a family and worked as a tractor-trailer driver, hauling gasoline for Texaco. He was even part of the Million Mile Club, a prestigious honor for driving more than 1 million miles without a crash.
Since the Turnpike was just a temporary part of his life – much like a summer job – Steele's grandfather rarely brought it up, if ever.
"The funny thing is, even though I was a civil engineer, he didn't tell me he worked on the Turnpike until after I got my job here," Steele said. "He never waxed poetically about his time here. He was 20 years old, he had no money, he needed a job, and there was somebody offering a hard-labor job, so he took it."
But the younger Steele was thrilled to find out his grandfather had a connection to those early days of the Turnpike.
"I thought it was extremely cool to have a common bond like that with my grandfather, even though it was separated by about 65 years," Steele said. "I certainly wasn't surprised. He was an extremely hard worker, so it seemed to match his personality."
While Steele's grandfather helped build the Turnpike, Steele is one of the people heading up a project that will be its future – Open Road Tolling (ORT). It's a cashless toll-pay system that reads the E-ZPasses and license plates of passing vehicles at highway speeds on the open road rather than funneling traffic through toll booths.
Steele's grandfather died about 15 years ago, but the two had a close bond that went beyond the highway that united them.
"We had a great relationship," Steele said. "We played a lot of golf together. He and my grandmother only lived a mile from us when I was growing up, so we spent a lot of time together."
And even though working on the Turnpike was just a moment in a long life, for Steele's grandfather, he couldn't have been prouder when his grandson started a career there in 2005.