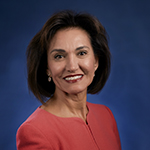 A Note From Our Chair
The release of the Transportation Revenue Options Commission (TROC) report marks a critical turning point in our "all-in" effort to enact legislation to establish a sustainable solution to our state's transportation funding crisis. My hope, shared by many stakeholders, is that this report will be used as the foundation for legislation.
It is well-established that we have a crisis: Pennsylvania has an annual funding gap of $9.35 billion that grows wider by the year. In addition, local governments face an annual shortfall of almost $4 billion, growing to $5.1 billion by 2030.
TROC's members researched a wide array of funding options and provided an analysis of the potential revenue that each could generate. These options include tolling, road user fees, taxes, and the redirection of funds.
The nonpartisan report reflects the commitment of nearly 50 Commission members who represent a cross section of stakeholders – and all Pennsylvanians. Legitimate concerns were raised by Commission members regarding potential impacts that some revenue sources could have on certain constituencies or industries. Those concerns are included in this report to be as transparent as possible.
Looking ahead, we will establish teams to support the administration and General Assembly to help with further evaluation and implementation of potential funding solutions. We cannot afford to let this report and the hard work of the commission members go to waste. Click here for more information on this critical effort. We will continue to provide updates in The Road Ahead.
Also in this edition, the Pennsylvania Turnpike Commission (PTC) has marked a special milestone: making the final $450 million Act 44 payment to PennDOT. As a result, PTC can refocus on its core mission — operating, improving, and expanding its statewide toll road network.
This edition includes helpful tips for E-ZPass customers as the fall and winter holidays draw near. About 85 percent of PA Turnpike motorists choose E-ZPass as their preferred payment method. And, while we all love the ease and convenience of E-ZPass, please remember that — as with any financial product — you should occasionally check your account. Just as important, ensure your transponder is mounted correctly in your vehicle according to instructions.
I am happy to report that PTC has launched a new webpage highlighting our fiber optic network project. Ultimately, the 220-mile fiber optic network project will assist in extending broadband to underserved areas and help to generate non-toll revenue through a unique partnership.
Finally, for those who live or work in the Greater Pittsburgh area, PTC is holding a Community Day on Oct. 9 to give residents and others a chance to walk or bike on the as-yet-unopened section of the Southern Beltway (PA Turnpike 576).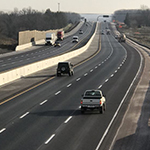 Commission Highlights Expansion Projects
PTC will start to highlight key projects across our 554-mile system that have been deferred due to funding constraints resulting from the agency's Act 44 payments for transit systems across the state. Under Act 44, PTC transferred $7.9 billion to PennDOT, which forced significant annual toll increases and deep cuts to PTC's capital plan. The loss of revenue because of the COVID-19 pandemic also forced PTC to cut $100 million from the capital plan. In July the final $450 million payment was made to PennDOT, and this fall PTC will highlight potential new interchange projects that can now be advanced.
"We have turned the page and can now return to protecting and investing in this asset," CEO Mark Compton said. "We have been able to protect the system and ensure safe travel for customers. But we need to continue to rebuild our road, add lanes and add new access points."
Compton notes that PTC must make $50 million annual payments to PennDOT until 2057.
Significant projects that are gradually being added back into the capital plan include the Delaware River Bridge, Hawks Falls Bridge, and Beaver River Bridge replacements and tunnel improvements, as well as several new interchange projects.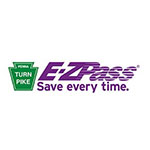 How to Keep E-ZPass Travel Easy This Fall
Holiday travel isn't always easy. If you're an existing E-ZPass customer, you can help ensure a seamless experience by following our E-ZPass "pro tips." Before you hit the road this fall, take these important steps to keep your account in good standing and ensure that your E-ZPass transponder does its job.
Download the PA Turnpike's PA Toll Pay App to manage your E-ZPass account.
Review your E-ZPass account activity monthly.
If you forgot your username and password or are unable to access your account online, you can self-serve by clicking on Login Problems. This link will walk you through the steps to reset your username and password. You can also call PTC's Customer Service Center at 1-877-PENN-PASS (1-877-736-6727) and select option 1 and option 1 again.
Sign up to receive email notifications. You'll be notified when your account needs attention.
Keep your account up to date, including your address, license plate, and payment information.
Mount your transponder according to the instructions provided in your E-ZPass User Manual. For most vehicles, your transponder should be mounted on the windshield behind the rearview mirror. If you are unable to mount the transponder in this location, check with your vehicle manufacturer or dealer for proper placement.
If your E-ZPass transponder is not properly mounted, it may not be read at exit, which will result in a v-toll. A v-toll is the transaction posted to an E-ZPass account when the transponder is not read but the license plate image taken matches a license plate listed on your E-ZPass account. For vehicles that travel on our East-West Mainline and Northeastern Extension, the v-toll rate for most passenger vehicles is $10. Remember, your E-ZPass transponder will read 99.5 percent of the time if properly mounted.
Customers who see a v-toll on their E-ZPass account should contact the Customer Service Center at 1-877-736-6727. If it is determined that your transponder is no longer working properly, PTC will replace it and make any necessary toll adjustments to your account. The Customer Service Center is open Monday - Friday from 8 a.m. to 6 p.m.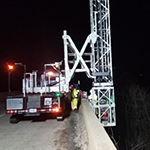 PTC Partners with Broadband Experts
PTC is constructing a large-scale fiber optic broadband network in the eastern part of the state to enhance its communications capacity. This network will increase bandwidth and boost connectivity between the agency's administrative buildings and support automated tolling capabilities and other advanced telecommunications applications for improved customer safety and mobility. The 220-mile fiber optic network will extend broadband to underserved areas and generate non-toll revenue through a unique partnership with the private sector.
Construction began this spring along the eastern part of the PA Turnpike mainline from Harrisburg East Interchange to the NJ state line and on the entire Northeastern Extension (I-476). Completion is estimated for early 2022.
The network's bandwidth will create excess capacity that PTC plans to lease to outside organizations, such as cellular network providers or other groups seeking high-speed broadband.
In 2020, PTC awarded Plenary Broadband Infrastructure (PBI) a 25-year contract for operations, maintenance, and commercialization services. The PBI team includes Tilson Technology Management Inc. as the operations and maintenance contractor and Plenary Americas as an equity investor, lead developer, and financial arranger.
Tilson, a national network development and information infrastructure services firm, and its asset-owning affiliate, Tilson Infrastructure, have partnered with Plenary Americas and PBI to maintain, operate, and develop the network and extend broadband capacity along the Turnpike.
More information on the fiber project can be found here.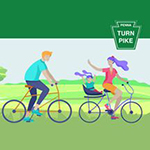 Community Day on the Southern Beltway
PTC will host a Community Day on the soon-to-open U.S. Route 22 to Interstate 79 project of the Southern Beltway in western PA.
The event will take place on Saturday, Oct. 9, from 9 a.m. to 1 p.m. and will offer the public a chance to see part of the project prior to its opening on Oct. 15. Walking and biking will be permitted on a 5-mile section of the roadway between South Fayette Way and the McDonald/Midway exits. No motorized vehicles will be permitted.
Residents can access Community Day via South Fayette Way (just off State Route 50) in South Fayette Township, Allegheny County, by using the westbound entrance ramp to the Southern Beltway/PA Turnpike 576.
Community Day will be held in accordance with CDC COVID-19 guidelines. The event has been planned with safe social distancing in mind, and masks are recommended.